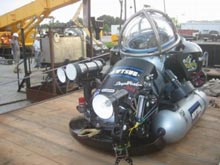 ---
Sustainable Seas: Project Goals

The Sustainable Seas Expeditions (SSE) have four goals:
Exploration and discovery;
Scientific research;
Use of cutting-edge underwater technologies; and
Raising public awareness of the marine environment with an emphasis on protection of marine species and ecosystems.

1. Exploration and discovery. "The submerged part of the continent is less well-known now than the western United States was to explorers Lewis and Clark when they set out across North America nearly 200 years ago," said Dr. Sylvia Earle. To protect and preserve the world's ocean resources, we must know and understand the inner workings and connections within the underwater world and between the underwater and above water worlds. With help from new technologies, the expedition team will explore areas never, or only rarely, visited. Scientists will use both video and still photography to document these areas. Images captured during the expedition will be catalogued for use by a variety of scientific and educational institutions.
2. Scientific research. In the years ahead, the planet will face many challenges in the ever-expanding and complex world of ocean management and resource protection. The marine science community will be asked to help answer complex questions concerning ecosystem health, economic impacts, and tradeoffs between various user groups and the environment. It also will be asked to comment on long-term trends in the marine environment. To help answer these questions, the expedition team will conduct a variety of scientific investigations, including habitat characterization, predator-prey relationships, and productivity assessments.
3. New technologies. The ocean is a challenging and hazardous work environment. Pressure and the absence of breathable air underwater render the sea an inhospitable place for humans. Thus, scientists need the right tools to effectively explore and conduct oceanic research. Technologies to explore the depths can be expensive and require considerable logistical support. SSE will employ the DeepWorker and DeepRover submersibles, which are compact, one-person submersibles capable of diving to 2,000 and 3,000 feet—well beyond the depth achievable with SCUBA gear. Other technologies that will be used include compact remotely operated vehicles (ROVs), new camera systems, shipboard tracking systems, navigational tools, and geographic information systems.
4. Raising public awareness. The spirit of adventure inherent in the exploration of an uncharted world is captivating to audiences both young and old. The compelling nature of SSE will help to focus public awareness on the marine world, its wonder and fragility, its special nature and its importance to human survival. During every field season and at every site, numerous educational and outreach events are offered, and young people are provided with a variety of opportunities to participate. National and local media are engaged, and the expeditions are chronicled for the entire world on this Web site.
Approximate Expedition Calendar
(Note: Weather, shipboard operations, and the marine environment affect the expeditions and the mission as a whole. These dates are given to provide an approximate timetable for the expeditions)
Mobilization and Preparation – Morgan City
July 8 - 12 Mobilization and equipment testing
July 13 Offshore launch and recovery practice for ship and dive crew
June 14 - 16 Transit to the Dry Tortugas
Eastern Gulf of Mexico Mission
July 17 - 19 Dry Tortugas
July 20 - 22 Pulley Ridge
July 23 Transfer Personnel – begin Western Gulf Mission
Western Gulf of Mexico Mission
July 25 - 26 West Florida Shelf
July 27 - 28 Pinnacles
July 30 - August 6 Topographic Features 1
August 10 - 13 Topographic Features 2
August 15 - August 21 Flower Garden Banks NMS
Data Collection: What are the Scientists Doing?
While at sea, expedition scientists will be using the DeepWorker and DeepRover submersibles to collect a wealth of information on deep-water habitats in the Gulf of Mexico. They also will continue to characterize the deep-water fish assemblages found there. In the Dry Tortugas Ecological Reserve, the scientists will give special attention the deep-water habitats off of Riley's Hump, an area known to support spawning populations of many ecologically and commercially important fish species.
Scientists on the expedition will also be studying day-to-night (crepuscular) migration patterns in a variety of reef fish populations. Several scientists also will be studying coral health in the Tortugas Ecological Reserve and will be "groundtruthing" multi-beam sonar maps for the southern portion of the Tortugas Ecological Reserve.
Along Pulley Ridge, expedition scientists will be studying geological and biological characteristics of the Ridge, paying special attention to patterns of zonation in the area. In all areas, scientists will attempt to collect sea floor samples of rock and coral for later study and will continue to collect information on the distribution and diversity of deep-water macroalgal communities.
While at sea, scientists also will be collecting physical oceanographic and water quality data using a combination of instruments including conductivity, temperature, depth instruments (CTDs) and Hydrocasts. In addition, the expeditions will provide an opportunity for observers to record information on the distribution and abundance of marine mammals.
---
Sign up for the Ocean Explorer E-mail Update List.