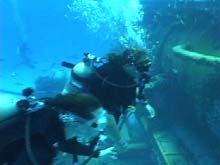 ---
A Personal Reflection of The Aquarius Project 2002 and life as an Aquanaut, Scientist, Explorer, Researcher…
Written by a Girl Scout

I like to pour through coffee table books, but because of them I decided that imagination is bad. Oh sure, by this you might imagine I mean all kinds of things. That imagination is not reality, and that's bad. Or that imagination takes up too much time, and that's bad. Or that imagination doesn't have to use fact, and that's bad. But imagination is bad because it is incomplete. Joseph Joubert said that, "He who has imagination without learning has wings and no feet." Ralph Waldo Emerson must agree, "What is the imagination?…only the precursor to reason."

So can you imagine how excited I was to learn that I one was of six Senior Girl Scouts from across the nation to be selected to participate in a combined Girl Scouts of America and National Oceanic and Atmospheric Administration (NOAA) venture called The Aquarius Project 2002. I was finally going to be able to combine all my book photo skimming and video watching experience about oceans and ocean life into a real, fast paced, factual hands-on experience. I was going exploring and was not at all concerned that I was leaving behind my beloved coffee table books.

How much could the Girl Scout leaders, NOAA explorers and scientists cram into our nearly week long itinerary? More than you can imagine. We all met for the first time at Miami International Airport in Florida, headed off to our temporary new home in Key Largo at the Aquarius Shore Station, put heads together to create a food list, then headed for the grocery store to stock up on edibles. Throughout the week we had wide variety of activities.

The project kicked off with a presentation by Commander Joanna Flanders covering marine science and NOAA careers. We had presentations, lectures and training in principles of exploration, surveying exploration sites, fish identification for research, vessel grounding, resource damage, coral reef restoration, water quality sampling, the missions and concerns of the Florida Keys National Marine Sanctuary, undersea habitats, the REEF program (Reef Environmental Education Foundation) and a briefing about the Aquarius by the Aquarius staff.

Throughout the week, we also read and studied from an extremely comprehensive Aquarius chapter workbook called "Exploring Planet Earth" provided by NOAA and GSUSA that included lessons about "Our Ocean Planet," "Ocean Exploration," "The Aquarius," and "The Florida Keys National Marine Sanctuary." We developed skills in video camera surveying, exploration site surveying with slates and compasses while we snorkeled, how to identify and record number counts of various fish in the sanctuary, and of course honed our skills in scuba diving in salt water.

Of course, we also scuba dived down 60 feet to enter the Aquarius, the world's only underwater marine research facility. Here we were even able to email messages home. Incredible.

We experienced communal living and cooked, cleaned and planned together. Sort of like camping, but without the tents, smores or campfire. But it couldn't help but have that camping feel when you have overnights with that many Girl Scouts assembled in one place! Naturally, we snorkeled, we scuba dived, we explored, we worked and then we explored some more, but we also made time to ask lots of questions, enjoy each others company, and take in amazing sunsets. And if all this experience and great mentoring wasn't enough, our last dinner together for the Aquarius project included an awards ceremony where all six Girl Scouts were knighted as official, certified, documented and thoroughly honorary NOAA Ocean Explorers and Honorary Aquarius Aquanauts.

Now you can imagine how tired we were after all this. In spite of being tired though, we were all so energized from the experience. But it was time to return home where we could share all the incredible things we learned with other Girl Scouts and community organizations interested in inspiring girls to learn about and become active in taking care of our precious planet. After all, this program was created to, "develop new opportunities for girls in ocean science. NOAA is the Nation's Ocean agency, like NASA is the Space agency, and we need to contribute to the development of tomorrow's ocean explorers, scientists, engineers and educators", said Michael Kelly, Program Manager with the NOAA Office of Ocean Exploration. And as Commander Joanna Flanders, a commissioned officer with NOAA said, "Working on the ocean can inspire almost anyone, but forms a special bond with those who are already drawn to it."

"Imagination is not to be divorced from the facts: it is a way of illuminating the facts." (Alfred North Whitehead, 1861-1947, from The aims of Education and Other Essays.) The fact is, after my experience with the Aquarius Project 2002, I imagine that I could become an adult Aquanaut, Scientist, Explorer, Researcher or whatever else imagination and knowledge combine to create. Who knows, maybe one day I will end up featured in a coffee table book and help start the process of inspiring some other Girl Scout to become an Aquanaut, a Scientist, an Explorer, a Researcher… now imagine that!
---
Sign up for the Ocean Explorer E-mail Update List.