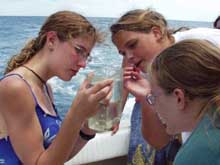 ---
Mission Logs
Written by the Girl Scouts during the Aquarius Project
August 22, 2002

Some days leaving a warm bed really early in the morning is an especially cruel event. And some days it isn't. Somehow knowing you are going to trade a warm bed for a warm ocean is all it takes to burst your mind awake and make your legs toggle out from beneath the blankets and hit the day running.

This, the last day of our special adventure into the salt water world of the Florida Keys National Marine Sanctuary, promised to be as rich and fulfilling as the days before it. Over a breakfast bowl of cereal and milk, I looked around at the other Girl Scouts and wondered if they had the same feelings that I did. I felt like an emotion milkshake, made with a heavy bit of sadness because it was our last day to explore, and tremendous excitement that there was yet another day of natural wonder awaiting well deserved ohhh's and ahhh's.

We loaded the vehicles with our gear and headed to the National Marine Sanctuary Office. We were given a presentation about REEF (Reef Environmental Education Foundation) and the importance of scuba divers and snorkelers learning how to identify reef fish so they can participate in tracking the location and abundance of fish species. This is an important way that everyone can contribute to the conservation of our Marine Sanctuary.

Next was a presentation about vessel grounding, resource damage and restoration given by Bill Goodwin, Resource Manager of the sanctuary. One of his jobs is to decide how much repairing damage to the reef will cost when a vessel grounds. Sadly, I learned that grounding happens way too often and usually because of carelessness. Don't people know that that the world's precious coral reefs may grow on shelfs, but that you can't just pluck one off a store shelf and plop it into the water to replace a damaged one?

We then headed to Molasses Reef and the Wellwood Restoration site to practice our new fish identification skills. We ended up moving to another area to snorkel and count fish because the waters were pretty choppy and unsettled.

Back at the station and it was time for dinner and awards. We were all made honorary NOAA Explorers and Honorary Aquanauts. Can you imagine... we had gone where no Senior Girl Scout had gone before! But we were now also one step closer to taking on another role, that of Honorary Ambassadors of Ocean Conservation. Unfortunately, we were only a sunrise away from leaving the Aquarius Shore Station to return to our Girl Scout Councils throughout the nation. I think tomorrow it will be harder to get out of bed. At least tonight I have my dreams. Six Spotfin butterflyfish, check. Two Yellowtail damselfish, check. Three Stoplight Parrotfish, check...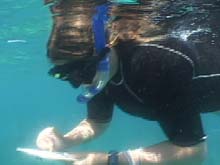 ---
As we pulled up on the Benwood wreck, all six of us Girl Scouts geared-up for our third day of diving in the Florida Keys. We plunged down on the wreck in the warm tropical water in three groups. One group of us was tasked with conducting a biological survey which means counting the number of fish in a particular zone around the 80 year old shipwreck. It is a tedious but rewarding job.

Another group was in charge of conducting a physical survey of the wreck and taking depth measurements throughout the wreck area. My group was video recording the others in action.

The dive went perfectly! We worked hard to get our data and came away with a new map of the area. We could even show which fish were spotted on which area of the wreck. This is the kind of information scientists collect all the time. They need to know what types of fish live in what types of habitat.

For our next dive, we headed to the Molasses Reef, a great soft coral reef with lovely snorkeling accessibility. Hovering near the boat, a cloud of barracudas watched us after spending a good 50 minutes at 30 feet. Even though by 11:30 we had already completed two dives, our day was just beginning! We would be working late into the night again, getting our data in order and reporting on what we learned during the dives.

After lunch, we pulled up to the marine sanctuary boat for our coral reef class, where we performed a plankton drag and observed the samples under a view glass. We also tested the salinity of the ocean, which is supposed to be 35 parts per thousand, but it was 26 parts per thousand. We also had a go at the Secchi disc, which measures water visibility. We also conducted a survey on he weather, including the cloud formation and the wind speed. We ended the day with a beautiful coral reef dive at shallow waters!
---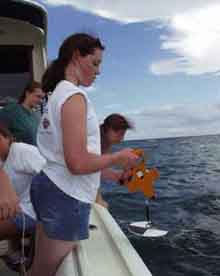 ---
August 20, 2002

Today was absolutely amazing! This morning we made our dive down to the Aquarius Laboratory, the only underwater lab in operation anywhere in the world! I still can't believe we really went down there!

The day stated out with a trip next door to the 'watch lab.' That's the place that has all the computers that communicate with the actual lab. From there, scientists on land can keep an eye on the scientists underwater, just to make sure there aren't any problems. We got a really cool slideshow on what to look for, what to expect, and all about the history of the Aquarius. We had so many questions for the Director of Aquarius, Dr. Steven Miller (he presented the show) and he had an answer for every single one. By the end of our visit we were revving to go. So we went down, loaded the boat and headed out.

When we got out there the water was so clear you could see the lab from in the boat, even though it's fifty feet down, and the water was so warm it was like taking a dip in the bathtub. Since there were six of us girls we had to go down in two different groups. I was with the second group, so we had lunch while we waited. An hour later it was our turn to go down. We strapped on our gear, hopped in the water and WOW!

Just looking at it was so awesome. It hadn't quite hit me yet how lucky we were to be going down there. Then we started our descent and all I could do was stare. There were so many fish, just gathered all over the place. The entire lab was surrounded by schools and schools of snappers, grunt, grouper, and barracuda. We looked in the portholes as we went by, and the people inside waved back at us. We entered under the wet porch, about two feet total swimming room. We came up under the floor of the room. It feels so weird to have your head out of the water when you know that you're fifty feet down. The air was so thick and heavy! After a few minutes of breathing it our voices started to change. Someone's sounded almost normal, another friend was off tone just a little bit and I sounded like Alvin and the Chipmunks!

After removing our tanks and equipment we got a tour of the lab. Only three small rooms, but wow! What a place to work! All the scientists were really cool! We got to meet five of them. We would have gotten to meet another, but he was 'outside' cleaning the windows of all things! They were really happy to have the company, especially when they found out that we bought them Girl Scout cookies! They even let us send our families e-mails from the bottom of the ocean! We visited for a few minutes and munched on their snacks, then headed back up to the top. We did our safety stop and waved to an underwater cameraman, then we hit the surface and got back on the boat.

That has to be one of the most amazing things I've ever done. This has been such a great trip and I've learned so much more than I ever would have at home. I can't wait to tell everyone back home!
---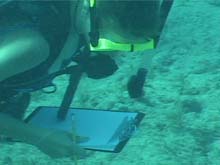 ---
August 19, 2002

A scientist's day starts early. Our 7:00 a.m. wake-up call was met with much disapproval from groggy girls. After a breakfast of champions - cereal, toast and fruit, we carefully packed our gear for the diving and the rest of the day's activities. None of us could contain the excitement that ran through our blood as we thought of the amazing sights we would see. Once the van was loaded up, we left for Pennekamp State Park were we boarded a Corinthian, a type of dive boat with two floatation pontoons and a large, flat, deck.

Once on board, we motored out to an area called Grecian Rocks, where not even five minutes into the water, we saw a pod of Nurse Sharks swimming in formation! It was amazing, and everyone was squealing with excitement. Later on we saw Parrot Fish, and lots of Conch Snails. Some were even lucky enough to see a Lobster and a Long-Spined Sea Urchin.

After we finished our snorkeling, we jumped backed on the boat and headed for Dry Rocks, where we made our first scuba dive, and with great results. During this dive, we reviewed our basic scuba skills, adjusted our gear, and got familiar with our new dive buddies. After the skills review, it was time for fun. And it was a blast. We saw many barracudas, brain coral, groupers, yellowtail snappers, and even some bat rays. The visibility was about 35' to 40' and the water was gorgeous!!! The day couldn't have been better; the sea was calm and one could see through the water even from the boat.


---
August 18, 2002
The trip began with all participants arriving at different times at the Miami International Airport. After we found each other, we piled into our vans and headed for the Aquarius Shore Station, our 'home' for the week. It was incredibly exciting to think of the amazing things we would be doing throughout these seven days, things that most people never get a chance to do.
When we arrived at the Shore Station, we immediately unloaded our bags and got settled. Soon after we left for dinner at the Bayside Grill, where there were many choices of seafood delicacies and famous Florida Key Lime Pie. The sunset was totally mesmerizing, setting into the horizon off the dock at Bayside.
Back at the Shore Station, we met one of the scientists that we would see later in the week down in the Aquarius. Then we listened to briefings about the days to come and then finally went to bed, after an exhausting arrival day.
---
Sign up for the Ocean Explorer E-mail Update List.