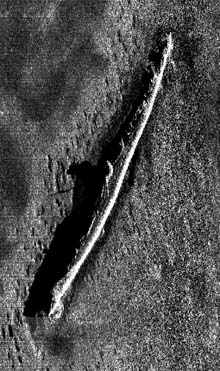 The USS S-Five submarine as it appeared in the first sighting.
---
The Search for the USS S-Five
July 2001
The USS S-Five submarine was the U.S. Navy's largest when it was built in 1917. The sub's first assignment was to complete a recruiting mission in Baltimore, MD, and points south during the summer of 1920. As the submarine performed a crash test as part of its final sea trial, water seeped in through a faulty induction valve. In only 4 minutes, the submarine was on the bottom of the ocean. Some 35 hours later, a passing ship noticed the wreckage and began a gallant effort to rescue the trapped crew. As the derelict sub was being towed home for repairs, it broke free of the rescue ship and sank about 15 mi off the coast of Cape May, NJ. Until recently, its exact location was unknown. In 2001, NOAA Office of Ocean Exploration asked the NOAA Ship Whiting to find the S-Five. The Whiting received information on possible targets, including "snags" from local recreational fishermen and a few reports from local divers who had found the sub several years before. The NOAA Ship Whiting used high-resolution sidescan sonar to locate the submarine nearly 80 years after it sank.
---
Sign up for the Ocean Explorer E-mail Update List.