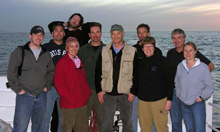 The explorers on the Davidson Seamount: Exploring Ancient Coral Gardens 2006 expedition return to Moss Landing harbor. Here in the front row are (from left): Chad King, Erica Burton, Andrew DeVogelaere, Lisa Borok, and Penny Allen. In the back row (from left): Lonny Lundsten, Warwick Sloss, Allen Andrews, Huff McGonigal, and Jim Barry. Ten days at sea may have been too much for the shy and humble Warwick Sloss. Click image for larger view and image credit.
---
Mission Summary
Andrew DeVogelaere, PhD
Chief Scientist — Davidson Seamount
Marine Scientist
Monterey Bay National Marine Sanctuary, NOAA
When we set out to Davidson Seamount on January 26, we had the following goals: to understand why deep-sea corals live where they do, to determine age and growth patterns of these corals, to improve species identifications from Davidson Seamount, and to share the exploration cruise with the general public. While we have yet to complete full analyses, the at-sea portion of the cruise was clearly successful.
During this 10-day research cruise, we made 70 hrs of observations on the Davidson Seamount and collected 102 deep-sea animal and rock specimens (some species likely new to science). The British Broadcasting Corporation (BBC) was able to obtain spectacular high definition video of seamount life that they were not able to find during two other expeditions elsewhere. The NOAA Ocean Explorer and Monterey Bay Aquarium Research Institute
(MBARI) Web sites were updated regularly with contributions from the entire science crew. While more analyses are necessary for our science findings, we have increased knowledge of the patchiness and role of sediments and currents on deep-sea corals.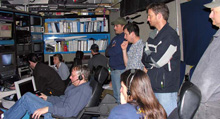 Our last dive was completed just a few hours before heading home. Staff and scientists look on in the control room during a mid-water filming session for the BBC. Several large Humboldt squid swarmed around the remotely operated vehicle (ROV) Tiburon. Click image for larger view and image credit.
---
Science is a process in which you develop additional questions every time you learn something new. This cruise was no exception! We left some markers on Davidson Seamount to help us make photographic measurements over future years and determine growth rates of the giant corals. We also have a series of new hypotheses on how far corals can disperse from their parents; how coral environment chemistry changes with depth; how other species interact with corals; and the role of microtopography (the local hills and valleys). Later this year, MBARI scientists will return to Davidson Seamount, using autonomous underwater vehicles (AUVs)
for high-resolution sea-floor mapping and mid-water current studies. These instruments won't bring back new video, but their data will help put a few more pieces of the deep-sea coral puzzle in place.
In terms of resource protection, we all left in awe of the spectacular nature and fragility of deep-sea corals. Upon return, we will map the location of all deep-sea corals found in and around the Monterey Bay National Marine Sanctuary, and use our new knowledge to develop a map of potential coral habitats that we have not yet visited. Managers will be able to use this information to focus activities (such as cable laying) in areas where corals are not expected. Marine reserves, including no-take areas, are currently being selected in central California, and these coral maps will also help identify critical protection areas.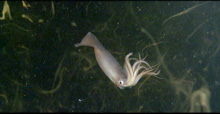 A Humboldt squid (Dosidicus gigas) swarms around the remotely operated vehicle (ROV) Tiburon, possibly attracted to its lights. Several of the large animals, measuring about 1 to 2 m (3 to 6 ft) in length, clouded the water with greenish-gold ink. Click image for larger view and image credit.
---
Now we start on the REAL work! In upcoming weeks and months, here's what the explorers from this cruise will be doing: we will hold a press conference on the cruise to share video highlights; make public presentations; complete scientific analyses; publish articles in science and education journals; incorporate data into resource management documents; and edit the BBC series Planet Earth. If you want to visit a piece of Davidson Seamount in person, we brought back a rock for the Monterey Bay National Marine Sanctuary visitor center in Cambria, California.
Thank you for following our cruise online, and thanks to the ship's crew, the ROV pilots, and the entire science team. This project was funded by the NOAA Office of Ocean Exploration, the British Broadcasting Corporation
, and the Monterey Bay Aquarium Research Institute
. Liquid Mountain provided high-quality outdoor clothing for testing at-sea.
---
Sign up for the Ocean Explorer E-mail Update List.