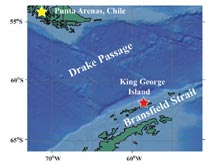 ---
King George Island, Antarctic
December 10, 2005
William Hanshumaker
Oregon State University
Public Marine Education Specialist
Extension Sea Grant Faculty
Weather: Low clouds with limited visibility
Winds: Variable between 5-25 knots
Seas: Three to five foot swells with whitecaps
The Bransfield Strait is approximately 200 miles long and 60 miles wide, and connects the Drake Passage with the waters of the Weddell Sea. The Drake Passage is the open ocean between South America and Antarctica. The Weddell Sea lies east of the Antarctica (Palmer) Peninsula and is bisected by Antarctic Circle. During this time of the year the Weddell Sea contains lots of loose, scattered pack ice, but it is generally frozen solid from late fall through the spring thaw.
Just off the north shore of the Antarctica Peninsula are the South Shetland Islands. The largest islands of the South Shetland group are roughly situated on a west to east axis, and are comprised of Deception Island, King George Island and Elephant Island. We had hoped to make landfall on Deception Island today, the weather conditions wouldn't permit this. There is an Argentinean research contingent currently there, investigating the geology of its submerged caldera and the associated hot springs. After circling off shore waiting for the weather to clear, we left Deception Island in our wake and proceeded back to King George Island.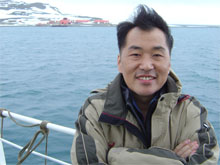 ---
I took this opportunity to meet with Dr. Minkyu Park, of the Korean Polar Research Institute (KOPRI). Without Dr. Park's assistance, it is unlikely that we would have had the opportunity to be here. Dr. Park is a Senior Researcher at KOPRI and received his Ph.D. from the University of Washington.
Dr. Park's research objectives include monitoring T-waves caused by earthquakes and volcanic activities. T-waves are acoustic energy traveling in the ocean's sound channel. The sound channel is a low velocity layer created through a combination of salinity, pressure, and water temperature. Similar to a telephone cable, the sound channels carries small signals long distances with little loss in strength. In the mid-latitudes, the sound channel is located at depths between 800 and 1000 meters, but in cold waters of the Antarctic it is found near the surface.
Dr. Park is investigating the mechanisms for T-wave excitation and designing an accurate computer model to analyze the earthquake sounds collected by our hydrophones. A key factor of the conversion of seismic activity into sound waves is the roughness of the ocean bottom. A rough sea floor, like a lens, focuses acoustic waves of seafloor earthquakes into the sound channel. Dr. Park's computer model incorporates the bottom profile, source depth, source type (earthquake or volcano), and sound velocity profile (salinity/temperature) to analyze distant underwater seismic events. Dr. Parks work will allow us to rapidly characterize seafloor seismic events otherwise undetected by traditional land-base methods.
Sounds of the Southern Ocean will be sending several reports from Dec 3 - 13. Please check back for additional logs from this expedition.
---
Sign up for the Ocean Explorer E-mail Update List.