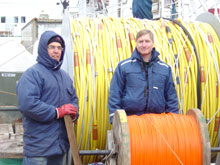 Dr. Dziak and Russian crewmember standing behind spool of nylon rope used in the final hydrophone mooring. Click image for larger view and image credit.
---
King George Island, Antarctic
December 9, 2005
William Hanshumaker
Oregon State University
Public Marine Education Specialist
Extension Sea Grant Faculty
Weather: Sunny and clear in the morning with temperatures hovering below freezing. High clouds formed in the afternoon,producing snow flurries by early evening
Winds: Variable between 5-25 knots
Seas: Three to five foot swells with whitecaps as the wind increased
Even without a glance to the porthole, the rolling motion of the ship has heralded our arrival to the Drake Passage. The Drake Passage is less protected than the Bransfield Strait. There is also loose pack ice and only the occasionally large iceberg. Even on clear days the continual winds create ocean swells that can challenge safe deck work. Fortunately, the seas calmed as we began to deploy our final hydrophone. The ship's crew took advantage of the relative stable weather during the morning to chip and paint parts of the Yuzhmorgeologiya's superstructure.
We arrived at our Drake Passage location at 0900 hours. The first order of business was to conduct an acoustic survey to locate level seafloor. This helps to assure that the hydrophone's heavy railroad wheel anchor will stay in place. At over 3500 meters, this was our deepest deployment of the cruise. After stopping to lower the syntactic foam float, the Yuzhmorgeologiya steamed forward at 2 knots to play out 3000 meters of nylon rope, before pausing again to attach the acoustic release. We then returned to our original location to drop the anchor. The anchor required over 20 minutes to reach bottom and landed within 150 meters of the projected location. After verifying its position with GPS, the captain turned the ship and headed back towards Deception Island. We should arrive there by mid-day tomorrow.
Now that we've completed our primary research objectives, I have the opportunity to interview some of the international scientists who have accompanied us on board the Yuzhmorgeologiya. After we've disembarked, they will be staying on board to complete their research investigations.
Dr. Fei Wang of China's Institute of Geology and Geophysics. Image courtesy of NOAA/Vents, Korea Polar Research Institute (KOPRI)
---
Dr. Fei Wang is an Associate Professor of Geochemistry, at the Institute of Geology and Geophysics, in the Chinese Science Academy located in Beijing, China. After receiving his Ph.D. from the same institute, Dr. Wang now conducts research in Antarctica that employs Argon dating techniques. Argon dating can be used to analyze samples from 10,000 years ago, before the impact of man's activities on the climate. Certain chemical changes in rocks and minerals depend on the climatic conditions. Depositional rate and sequence can be a window to past climatic changes.
Dr. Wang collects his samples using boreholes and exposed rock profiles found on King George Island. Similar research has been conducted in other parts of the planet but never before in Antarctica. Dr. Wang hopes that this study will provide additional evidence of past climates and the study of plate tectonics.
Sounds of the Southern Ocean will be sending several reports from Dec 3 - 13. Please check back for additional logs from this expedition.
---
Sign up for the Ocean Explorer E-mail Update List.