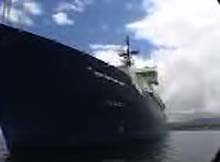 ---
Scientists Get Ready to Explore the Galapagos Rift
May 24, 2002

Watch the Atlantis. (mp4, 4.1 MB)
Scientists arrived throughout the day and boarded the Atlantis, moored in the harbor of Puerta Ayoras, on the island of Santa Cruz, in the Galapagos Islands. During the day, members of the science party set up their equipment in the laboratories aboard the ship, and others explored parts of the islands, the unique wildlife, and the undersea.
At 1800 hours, the anchor was hauled and the cruise began on schedule shortly before the sunset, bound for the Galapagos Rift, just under 200 nautical miles away. During the transit, the ship will collect soundings of the ocean depths, to make better maps of the area. The promise of discovery is alive throughout the ship, and is also evident on deck with a marvelous array of sampling and imaging equipment.
---
---
Sign up for the Ocean Explorer E-mail Update List.