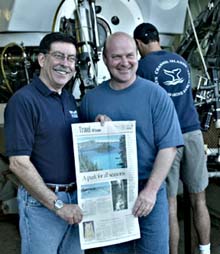 ---
Explorers on Galapagos Rift
Sandra Brooke
Kendal Bush
Bob Collier
Jonathan A. Eisen
Dan Fornari
Patty Kim

Sandra Brooke
Marine Scientist
Harbor Branch Oceanographic Institution
Sandra's science background is truly global in reach. She graduated with a degree in biology from the University of Essex, in Colchester, United Kingdom and has been on the move ever since. Her work has taken her from Europe to Costa Rica to the Cayman Islands and the U.S. Her experience in diving and submersibles is extensive. She's done saturation diving from the Aquarius Underwater Habitat, and has made dives using the full spectrum of submergence equipment including Alvin, Clelia and the Johnson Sea Link submersibles. Sandra teaches at Harbor Branch Oceanographic Institution.

Kendal Bush
Photographer
National Geographic Society
Kendal Bush fell in love with photography as a child. As early as she can remember, still and video cameras fascinated her. As a student, she studied film and graduated Magna Cum Laude from Temple University in 1993. Her television career began with the proverbial "foot in the door" as a sports editor at WCAU-NBC10 in Philadelphia, PA. Kendal eagerly pursued videography at the station and in a short time was a "one woman band"—shooting, editing, and teching liveshots in the field. As a freelance photojournalist, Kendal covered major events such as the 1996 Olympic Games in Atlanta, Pope John Paul II's historic visit to Cuba and the crisis in Kosovo, which earned her an Emmy nomination. Now, as a producer/videographer for the National Geographic Channel's daily newsmagazine, National Geographic Today, Kendal's seasoned eye captures amazing images from locations as exotic as Kenya, as far off as Australia, as pristine as the Galapagos and as wild as Alaska.

Bob Collier
Associate Professor
Oregon State University
Bob Collier will be using the Atlantis "CTD" instrument at night to study the physical and chemical characteristics of the hydrothermal fluids as they form plumes above and beyond the sea floor vents. He also will work with the ABE group and the towed camera team to jointly apply these tools in the search for new vents. Collier received his Ph.D in Chemical Oceanography from the MIT-WHOI Joint Program in 1981 and is currently an Associate Professor at Oregon State University's College of Oceanic and Atmospheric Sciences. His research focuses on the trace element geochemistry of dissolved and particulate materials in the marine environment, including processes at ridgecrest hydrothermal systems. While a graduate student with John Edmond at MIT, Collier participated in both the Pleiades expedition (1976) and the Knorr/Lulu/Alvin expedition in 1977, which was the first expedition to visit the Galapagos hydrothermal vents.
Jonathan A. Eisen
Evolutionary Biologist
The Institute for Genomic Research (TIGR)
Dr. Eisen is an evolutionary biologist whose current research focuses on phylogenomics (the combination of evolutionary reconstructions and analysis of genome sequences). He is working on developing methods to use genome sequencing and analysis to study the evolution and ecology of organisms that live in extreme environments. On this expedition, he will be supervising the collection and storage of samples for genomic analysis. Dr. Eisen received his undergraduate degree from Harvard College in 1990, where he worked on the endosymbioses between bacteria and invertebrates that are a major factor in biology of the hydrothermal vent ecosystems. He received his Ph.D from Stanford University in 1998 where he worked on the origin and evolution of mechanisms by which species, such as those that grow in high temperatures, protect their genetic material (DNA) from damage. He started working at TIGR, a non-profit research institute in Rockville, MD, in 1998 and has worked on genome sequencing and analysis projects for a wide-diversity of organisms, including the most radiation-resistant species known (Deinococcus radiodurans), extreme thermophiles (Thermotoga maritima), pathogenic bacteria and eukayotes, and plants. He is currently developing and applying methods to use genomics to study the biology of microorganisms that have never been cultured in the laboratory, through sampling of their DNA directly from the environment.

Dan Fornari
Woods Hole Oceanographic Institution
Dan Fornari is a prolific marine geologist. He has participated in more than 40 major oceanographic research cruises and published more than 75 papers on hydrothermal systems, fast-spreading ridges, and sea floor volcanism. He solidified his reputation as a sea floor pioneer in 1991 while diving along the East Pacific Rise. Fornari and colleagues discovered a hydrothermal vent field that had just been devastated by a submarine volcanic eruption. They recognized the event as an opportunity to study how lava erupts on the sea floor and how vent fauna re-colonize a site after it is devastated by a new lava flow.

Patty Kim
Journalist/Anchor
National Geographic Society
Most recently an anchor and producer for the Discovery Channel, Patty Kim has an extensive background reporting on science and world cultures. Her broadcasting career began in 1993 as a weatherperson and anchor with The Weather Networks. She then spent five years at the Canadian Broadcasting Company (CBC), reporting on the arts, local news and current affairs. Also at the CBC, Kim anchored a nationally broadcast newsmagazine devoted to travel and adventure, and hosted a weekly segment for the regional evening newscast.
---