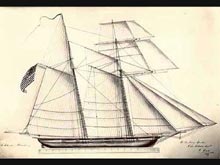 ---
Remote-Sensing Survey for the Remains of the USS Alligator
Summer 2004
Rick Yorczyk
Archaeological Program Analyst
NOAA Office of Ocean Exploration
This summer, Underwater Archaeology Branch of the Naval Historical Center conducted a remote-sensing survey of a portion of the National Oceanic and Atmospheric Administration's (NOAA's) Florida Keys National Marine Sanctuary to locate, identify and document what remains of the United States Schooner Alligator.

Alligator, designed as an armed schooner, was constructed at Charlestown Navy Yard in Boston, Massachusetts in 1820. One of only five vessels built for the suppression the slave trade and piracy during President James Madison's "Era of Good Feelings." It was among the first oceangoing vessels outfitted with a high pivot gun, a technological innovation and forerunner to the turret guns standard on later warships. At 198-tons, Alligator measured 86 feet from stem to stern, 24 feet 9 inches in width, and a draft of 9 feet.

Alligator served a brief but remarkable naval career. In 1821, the schooner embarked on its first mission, a search along the west coast of Africa for land suitable for colonization. This mission was motivated by the American Colonization Society, which was formed for the purpose of repatriating former slaves to the African continent. This first voyage led to the establishment of a colony that became the Republic of Liberia. During the remainder of its first cruise, Alligator captured a Portuguese pirate ship, the Marianna Flora, as well as several slavers.

Beginning in early 1822, Alligator cruised the waters surrounding the newly acquired Territory of Florida to combat piracy then rampant in the Florida Keys and along the coast of Cuba. On November 9, 1822, she captured a pirate schooner off Matanzas, Cuba. During the engagement, Alligator's captain, William Howard Allen, was killed. On November 18, Alligator ran aground in the Florida Keys, on or near what is now known as Alligator Reef, named in honor of Alligator. The crew labored in vain to refloat the vessel, but it did not budge. Regretfully the crew abandoned ship and transferred themselves and as much equipment as they could salvage to another vessel. To prevent Alligator from falling into the hands of pirates, the crew set it afire, which set off an explosion blowing the vessel to pieces.

The Naval Historical Center is using a magnetometer and visual inspection to explore Alligator Reef and environs along Alligator's last plotted course and recorded position to locate shipwrecks with timbers, artifacts, ballast, etc., characteristic of the early 19th century. If the survey reveals a likely Alligator candidate, archaeologists will systematically assess the wreck's visible remains and recommend maritime cultural resource management strategies.

Because of its unique history, considerable archaeological significance, accessibility, and distinction as the earliest naval shipwreck in Florida waters, the Alligator shipwreck will provide an important window on our national history and heritage. The site will be a valuable historical, scientific, and educational asset to the Navy, NOAA, and the Florida Keys National Marine Sanctuary.