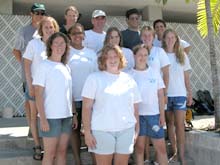 ---
Mission Logs
Written by the Girl Scouts during the Aquarius Project
August 18, 2003
Juliann, Ohio

Since we couldn't dive for 24 hours before flying home, we headed out for a day of kayaking and snorkeling. We went out to Islamorada and spent the morning paddling in the backwaters of the mangrove swamps. We saw lots of fish and a few little nurse sharks. Then we paddled out ~1 mile to Indian Key where we had lunch and a tour of the small island. Even that small island was packed with tons of history: wrecking businesses, Indian wars, etc. We grabbed our snorkel gear and took a quick dip on the far side of the island. We paddled back and drove to the house where we showered and got ready for our farewell dinner. This is the point that I am writing this and the moment that I've been fearing. The end of this wonderful trip/experience has really come. I think that the greatest thing I've gotten out of this, besides the awesome diving opportunities, is the serious career insight I've gotten. I really have a better idea about colleges and majors and careers. I've gotten a lot of field experiences and the chance to talk to real scientists and people with ocean jobs, and that is something that wouldn't have happened without the Aquarius Project. Thank you!

---
August 17, 2003
Rosa, Maryland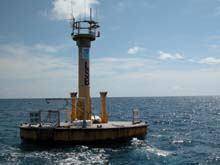 ---
Today was the best day. Today was the day we dove on the Aquarius habitat. We left the research lab and arrived at the Aquarius monitoring lab where they can keep an eye out for anything that might be wrong. They can also just monitor the habitat to make sure everything is running correctly. We were supposed to dive between 2 o'clock and 4 o'clock but they moved it up so that we were diving between 11 o'clock and 1 o'clock. When we got down to the Aquarius we had a tour around the outside of the facility and then we swam into the wet deck. We took off our weight belts and tanks and BC's. We didn't wear our wetsuits down so that we didn't have to waste time taking them on and off so that we could have more time in the habitat.
We rinsed the saltwater off of our bodies in this little shower and when we saw the fish swimming past the window we couldn't believe it. When we got inside we met the techie person. His name was Otter and he was telling us about how the habitat ran and then we each got to call our parents. I called my mom and grandma because my mom was visiting her. Then I called my dad and my sister, who could see me because they were near a computer with an Internet connection to the Aquarius Website, and they said that they could see me. We took a tiny tour of the habitat, which is about the size of a school bus. We took pictures of us in the bunks and at the table the scientists use for dinner. Then we were watching the people outside as well as the fish swimming past the windows. We saw some of the things that helped the habitat run and we saw how they connected to the LSB (life support buoy). It was really cool.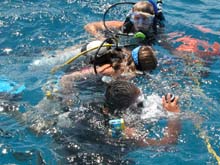 ---
I told Otter that I was in love with the fish called sergeant major, and he told me how they had fisheries on the side of Aquarius and if you got too close they would peck at your face. I HAD to try it. He asked the scientist who would take us back to the surface to show them to me and when I swam over, the sergeant major bumped against my mask. It was so much fun. Then it was time for us to leave and we went back down to the wet deck and put our BC's and fins and booties back on and left the habitat. We took a few pictures outside of the habitat and of the habitat and then we began our ascent to the top, making a 3-minute decompression stop at 15 to 20 feet. When we got back on the boat we unloaded and broke our gear down and went back to the research lab. Today was the best. When we told some of the marine biologists what we were here for and what we were going to do, they told us how lucky we were and we realized how rare it was for scientists to be able to inhabit and use the habitat. It was a great experience and I truly hope that other girls get the opportunity to participate.

---
August 16, 2003
Kate, New York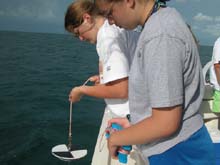 ---
Ahhh I'm so tired, what an awesome day this has been! Our morning consisted of the floating classroom on the R/V Odyssey with the Florida Keys National Marine Sanctuary staff. The Odyssey had been confiscated from drug dealers and is now used by NOAA for research. Turning a bad thing into a really good thing I think is a great idea. The boat's inside cabin sleeps about 4 with a bathroom, kitchen, and a living room with a TV, and its air-conditioned! How great would that be to vacation on a boat like that!

Ivy Kelly from the FKNMS taught us how to take water samples. We took samples in the canal, where the boat was docked, of turbidity, salinity, temperature, O2 content, wind speed and direction. We then went out to the reef to take the same samples and compare our notes. We determined from our results that the water in the canal is actually really clean.

The snorkeling was pretty cool although we didn't stay out long. We had to wear these snorkeling vests that were bright yellow so we could be spotted and they were very uncomfortable. And for the first time all week I wasn't sick! I had a light breakfast and took tons of Dramamine so maybe that was the trick. We got back to the dock and ate lunch by the picnic tables. I didn't eat anything because I didn't want to get sick when we went out later, but it was really interesting to people watch. And my theory of not eating worked really well. I think I've finally grown my sealegs.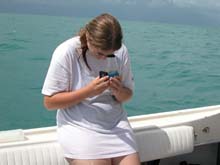 ---
After lunch we went to Pennekamp State Park and went on the pontoon dive boat once again. We got there a few minutes early and it immediately started to downpour. Not the light drizzle, no, it was raining buckets. On the bright side our gear got an extra rinse. By the time we actually went out on the boat it had stopped raining and the sun came out. I don't understand the Florida weather at all.

Our first dive was to the shipwreck Benwood. It sunk in the 1940s and was
very interesting to dive on. There were tons of fish, and we even saw a nurse shark! On the way out to the wreck, I saw a spotted eagle ray swim right under the dive boat! After the Benwood, we went over to French Reef to do our second dive. I'm still a relatively new diver so I didn't really watch my time on the bottom. It turned out that I spent a few minutes too long on the bottom, so there was some concern as to whether or not I was at risk for decompression sickness. I did do decompression stops though on both dives so the risk was a little less. I was completely embarrassed for making such a careless mistake but you have to learn sometimes I guess.

On the way back to the dock, Kristen, Scubi, and I talked about diving and what we were going to do after we got home and where we wanted to dive in the future. The dive master kept checking on me from time to time to make sure that I was okay. I think he was really concerned, even though I felt fine.
After those two dives, we were all pretty tired and I fell asleep on the couch before dinner. Everyone kept asking how I was feeling because the symptoms can occur up to 48 hours afterwards. I felt horrible about the whole thing because the whole first part of the week I was terribly seasick and now this, but I guess you just have to take what life throws you. I just kept saying I felt bubbly :-).
We had career night after dinner and Katie, one of the researchers staying upstairs from the University of Georgia, came down to talk with us. She talked about her research on distressed coral. It was actually really neat. Everyone suggested that I major in just plain biology before going into the marine part. That would give me a solid basis on which to explore many possible career choices. I have way too many decisions to make and I've only just begun. Well it's late and I'm utterly exhausted. And no sign of bubbles yet!

---
August 15, 2003
Sabrina, Hawaii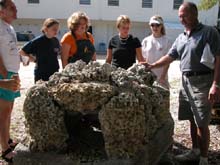 ---
Today was a beautiful day and we had so much fun! We started off the day getting up at 6:45 am and eating breakfast while still half asleep. We then made our lunches and loaded the vans with our snorkel gear and headed to the Florida Keys National Marine Sanctuary to listen to two very interesting lectures. The first one was by Bill Goodwin, who spoke about the damage that people do to the coral reefs and the process involved in restoring the damage. The next lecture we heard was by Nancy Diersing who talked about the shipwrecks found along the Shipwreck Trail and she also explained how some of them became sunk. We then took a snorkel trip to the Grecian Rocks reef where we saw damage from a boat grounding last week. We saw lots of fish and other aquatic wildlife as well. We had a lot of fun riding in the boat and the good news is no one got seasick today. It was all calm seas today. Yeah!

---
August 14, 2003
Kristen, Colorado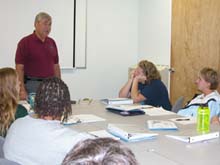 ---
Today was really fun. In the morning we went on a snorkel trip off the dock at the house we were staying at. There were tons of upside-down jellyfish. I also saw miniature seahorses amongst the eelgrass. We found a snail and a bunch of clams. We also saw a very large horseshoe crab, and lots of "tire and can" fish! This afternoon, we went to John Pennekamp State Park to get on a boat to dive on Molasses Reef off the east coast of Key Largo. During the dive, we saw many different species of colorful fish. There were some weird long brown fish that looked like sticks, I later found out they were called trumpet fish.

On the second dive we saw a nurse shark, a couple of barracudas, a moray eel, and a huge string ray. This evening we had a lecture by Billy Causey, at the Florida Keys National Marine Sanctuary building, about the problems that are affecting coral, and what we can do about it. Then we came back to the house and ate key-lime pie. YUM! It has been a long, eventful, tiring day!


---
August 13, 2003

Laura Rear, Project Coordinator
NOAA Office of Ocean Exploration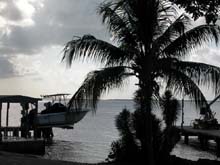 ---
The adult chaperones from NOAA Ocean Exploration and Girl Scouts of the USA arrived yesterday to set up the University of Georgia Key Largo Marine Research Laboratory house where the girls would be staying for the week. There was grocery shopping to be done and necessary millipede removal from the rooms that the scouts would be sharing. This morning I actually learned how to snorkel in the bay off the back of the house. Some people might ask how an oceanographer never learned how to snorkel, but I answer with not all of us need to snorkel or dive to complete our research. My research in graduate school involved deploying and recovering oceanographic equipment from the stern of a research vessel, and analyzing the data later at the computer. Needless to say, this was the first time I saw the bottom of the ocean. I was absolutely amazed and couldn't wait for the girls to arrive so we could snorkel and learn about the coral reefs. After a quick lesson in snorkeling, the adults had to go to the Miami airport to pick up the six girls at their arrival gates.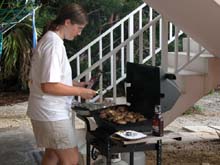 ---
We had girls arriving from New York, New Jersey, Maryland, Ohio, Colorado, and Hawaii. After a long day of travel and waiting for luggage, the girls climbed into the vans and were ready to start the Aquarius Project 2003. The girls were very excited to be chosen to participate in the project, and they chatted about it for the hour ride back to the Keys.
Once at the house, the girls unpacked, made their beds, removed more millipedes from the living quarters, discussed the Kaper chart for the week, and prepared hamburgers and hotdogs for dinner. After dinner we played an icebreaker game to learn a little about the 11 people who would be spending the rest of the week together. The girls went to sleep dreaming about what was to come in the week ahead.