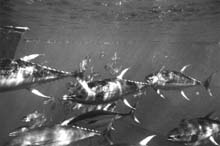 ---
Census of Marine Life 2002/2003
Though diversity of marine life is extensive and may rival that of the rain forests in the number of species found there, our knowledge of ocean life lags far behind that of terrestrial life.

The Census of Marine Life (CoML) is an international research effort that strives to assess and explain the diversity, distribution and abundance of marine organisms throughout the world's oceans. This initiative grew out of the need to better understand the oceans and how they are changing, as well as the implications of these changes on human life and our marine resources. Like NOAA's Office of Ocean Exploration, CoML emphasizes field studies conducted in unknown and poorly known habitats. The following are CoML explorations in 2002 funded by OE:

---
Biodiversity of Bear Seamount and Vicinity Exploration

July 15 – August 2, 2002, Summer 2003
While the geology of the New England Seamounts and their effects on the Gulf Stream have been extensively studied, the biota has been almost completely ignored. This expedition will consist of exploratory trawling of the most inshore seamount of the New England chain to discover the distribution patterns of new and poorly-known species. It will also examine whether fauna around this seamount differ from those of the nearby continental slope.
---
Marine Nekton as Ocean Explorers: Exploration as Evolved Behavior
July 15 – August 15, 2002, February 2003
Marine animals using the open ocean undertake large-scale migrations that are poorly understood. This exploration will use new technologies in the form of electronic tags to examine the open ocean movements of humpback whales off the Oregon Coast. This will make marine animals the "ocean explorers," identifying for scientists the key features of their migratory activity.
---
Discovering Long Distance Migrations and Deep Diving Behavior for Large Pelagics in the Central Pacific with Pop-Up Satellite Archival Tags
November 1 – 15, 2002; February 2003
Pop-up satellite archival tags, a recent technological advancement, will be used to study a diverse group of large pelagic animals. The objectives are to explore the diving behavior, habitat use and migration routes of several species of oceanic sharks, tunas, and billfishes in the central North Pacific.
---

OE/CoML Participants
NOAA Fisheries, NOAA Sea Grant, Oregon State University, Consortium of Oceanographic Research & Education (CORE), and others.
NOAA Fisheries
NOAA Sea Grant
Oregon State University
Consortium of Oceanographic Research & Education (CORE)
Others
---
Sign up for the Ocean Explorer E-mail Update List.