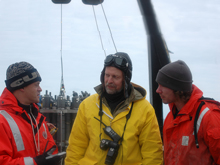 ---
Interpreter Power
September 11, 2009
I was asked to describe my role in the Russian-American Long-term Census of the Arctic (RUSALCA) project. In general, I coordinate between the Russian and American teams, and that obviously includes a lot of translations.
The first thing that comes to mind when talking about translation is the story of the Tower of Babylon. Those guys definitely experienced a lack of interpreters and this ruined their project.
I am not a professional interpreter, but sometimes during the RUSALCA operations I hear pleasant thanks and compliments for my translations. I always think that, perhaps, it is just polite gesture of courtesy. Was the translation really good? Well, in any case, it is nice to hear and see that I continue to be useful to the project.
The English language was always an important addition to my work. It all began in the 1960s when my parents hired a private tutor for me so that I could learn better English. At that time, I never realized what a powerful tool I was getting in my hands — the English language. It was just fun to better understand the songs of the Beatles or American folk songs. Some of these songs were printed in the journal America, my little window to the romanticized world far away.
I wanted to see America and decided to become a marine geophysicist so that I would be able to travel a lot. Meanwhile, I thought that my English was good (and even slowly progressing) until I met an English-speaking tourist in the street and realized that I could not understand him. That was a shock. During my Moscow State University years I worked for free as a guide in a tourist agency; that helped my English a lot. Still, I felt terrible when my communications were too slow. At that time I developed my rule number one in translating: it is better to speak fast than be grammatically correct.
After the university, I had 20 years of a classical academic career in the Russian Academy of Sciences' Shirshov Institute of Oceanology. There were dissertations, publications, and marine expeditions, two years all together at sea and many exotic places, many countries, many English speaking people, many unknown words. There I developed my rule number two: if you have forgotten or do not know a word for translation, just quickly explain it in other words ,inviting a person you are talking with to guess it. It will prevent the loss of a contact during conversation.
In perestroika time I won a Alexander von Humboldt Fellowship in Germany and received a basic level of the German language. Unfortunately, I had not time to get it to the working level, probably, because everybody communicated in English in my host institute.
Then I won the George Soros fellowship when I was back in Moscow. In that position, I made a discovery of a new tectonic belt under Baltic Sea, published a book of all my research results, and then had the feeling that I am ready to try something new.
In 1998 I signed a contract with Russian Foreign Ministry to work in the Russian Embassy in Washington, DC, as a science counselor. It was like "landing on another planet" for me, but it was an English-speaking planet. A question of the Ambassador after arrival: "What do you see as your goal here?" My answer: "Promotion of Russian-American cooperation in science and technology." Ambassador's reaction: "Good." Then, more than six years of intensive work, meetings, traveling, translations. My English was getting better though my memory was getting worse. Well … I hope these two processes compensated each other.
I was trying to help to move ahead several Russian-American projects in addition to supporting the existing ones, but the political climate was not cooperating. I wanted real results. At that time NOAA started to contact the Embassy trying to reestablish joint U.S.-Russia work in the oceans on climate research. The process was going too slowly. The global warming could have ended and changed back to the ice age before something was going to be accomplished. There were a lot of misunderstandings on both sides. Then we decided to bring in the Russian Academy of Sciences and to try a public-private partnership approach to foster collaboration in the Arctic. It took some effort to explain that this approach would be a win-win project, but it worked and the project later called RUSALCA started.
During this process a translator had to be even more interpreter and the rule number three came out to be: instead of translating word after word (that never works even when professionals are doing this) it is better first to understand what one side wants to say and then to explain it to the other side. Of course, I try to use words as close to the original as possible, but the priority is to explain and deliver the meaning of a message. I know that very often (even when people speak the same language), they often do not understand each other. What can one say about those who speak different languages? If these people happen to be different countries' presidents, misunderstanding may cause war! Yes, my role is much more modest; I only try to diminish potential contradictions and to keep the RUSALCA project going on efficiently.
I am not doing scientific research anymore, but I am happy to help facilitate it. After all, scientists are also interpreters — from the language of nature to the language of people's knowledge.