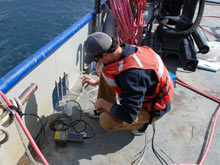 A hose attached to the remotely operated vehicle's umbilical tether pumps groundwater from the bottom of the sinkhole to the surface for sample collection. Here Tom Novell works on the apparatus. Click image for larger view and image credit.
---
Aging Sinkhole Groundwater
September 7, 2008
Dr. Mark Baskaran and I are currently working to determine the age of the sinkhole vent water, using chlorine-37, and to quantify the amounts of water being emitted, using naturally-occurring radium isotopes and isotopes of oxygen and carbon from different sinkholes in Lake Huron. This groundwater has many different characteristics that help to distinguish it from lake water. These include a warmer temperature, higher conductivity, a severe lack of oxygen, and different isotopic compositions of oxygen and hydrogen. Several different sampling and analytical methods are being used to determine the "age" of the sinkhole waters and to identify the sources of these waters.
By measuring the amount of radioactive chlorine in the groundwater, we can possibly determine its age. Certain isotopes of chlorine are created by cosmic radiation that comes mainly from the sun's rays. This chlorine isotope seeps through the ground and eventually reaches the groundwater aquifer. It undergoes radioactive decay at a constant rate once it enters the ground and is no longer exposed to the sun. We can date the groundwater being discharged into the sinkholes by comparing the radioactive chlorine concentration in the groundwater to the initial radioactive chlorine concentration that was once on the surface.
Radium and stable isotope data are used to quantify the amount of groundwater discharge. It is possible to efficiently extract radium from water by passing the water through a series of columns, filled with manganese-coated fiber. As the radium passes through the MnO2-coated fiber, it is bonded to it and remains trapped on the surface of the fiber after filtration. This fiber is then ashed and placed into a vial for gamma-counting. Radium is a naturally occurring radioactive element that emits radiation capable of being counted. We use a gamma-ray spectrometer to single out the radium and determine its concentration in the water. Radium emits a certain type of gamma-radiation (with a set of unique gamma energies) that no other element emits, giving it a specific signature that the detector can recognize and count.
We have found that the groundwater being discharged into the sinkholes contains substantially higher concentrations of radium compared to the lake water. Small groundwater samples are collected to test for the stable isotopes of oxygen and hydrogen as well. These samples are used to better characterize the groundwater and distinguish it more efficiently from the lake water.
Through the methods mentioned above, we are attempting to date and map the path of the groundwater after it enters the lake and determine its dispersion rate. This map is being created by collecting samples both vertically and horizontally around the sinkholes.
---
Sign up for the Ocean Explorer E-mail Update List.