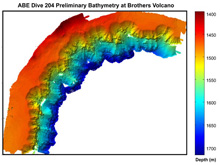 A map of the northwest slopes of Brothers Volcano created from autonomous benthic explorer (ABE) bathymetry. Preliminary data resolution is two meters. Map created by the Woods Hole Oceanographic Institution ABE team. Click image for larger view and image credit.
---
First View of a Hidden World
August 3 , 2007
This dive represented a real comeback for ABE. Two days ago it prematurely aborted its first dive at Brothers Volcano and returned to the surface after seawater leaked into the internal wiring through corroded penetrators. Penetrators are special fittings through holes in underwater pressure cases where electrical connections pass through to connect to batteries and other parts of the vehicle. They are the weak point on underwater instrumentation, because even a small saltwater leak can cause major damage to the electronic components inside.
Fortunately, the internal damage to ABE was minimal, but successful repair of a corroded penetrator at sea is always problematic. Some very delicate work by ABE engineers Andy Billings and Al Duester, and the research vessel Sonne's machinists Werner Guzman and Volker Blohm, removed the pitted metal, precisely milled new "seats" for the penetrators to seal against, and repaired cable connections to the inside of the penetrators. After a day of intense work by the ABE team, the vehicle flawlessly surveyed the northwest wall of Brothers caldera (depression). The map shows unprecedented detail of the wall of Brothers where there is active hydrothermal venting. The numerous amphitheater-shaped slump scars on the upper wall are only faintly seen in the map made with the ship's sonar (see Log 1 about Brothers Volcano).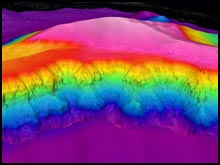 A three-dimensional view of the amphitheater-shaped slump scars on the northwestern wall of Brothers Volcano. ABE bathymetry (at 2-meter resolution) in the foreground is overlaid on EM300 bathymetry (25-meter resolution). There is no vertical exaggeration. Click image for larger view
---
The detailed ABE map allows the geologist to directly relate features — seen by the naked eye from submersibles or by cameras on remotely operated vehicles — to the larger context of that high-resolution map view. Next we will begin to look at the temperature, chemical, and magnetics data collected by ABE.
Brothers Volcano will slowly yield its secrets, dive by dive, over the next few days. Stand by for the next chapter!
---
Sign up for the Ocean Explorer E-mail Update List.