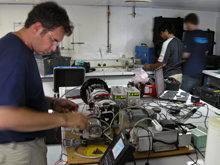 Dr. Richard Camilli conducts tests on the Gemini mass spectrometer. Click image for larger view and image credit.
---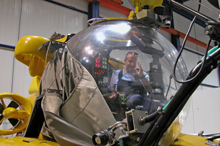 Konstantinos Katsaros, who pilots the human-occupied vehicle (HOV) Thetis, confirms results on an instrument check that indicate that everything is A-okay! Click image for larger view and image credit.
---
Mobilization
June 25, 2006
Justin Manley
NOAA Office of Ocean Exploration
Most of the Woods Hole Oceanographic Institution (WHOI) team is now in Greece at the Hellenic Center for Marine Research (HCMR), our hosts and partners. For the past several days now we have been preparing the research vessel (R/V) Aegeao to get underway. Watching an ocean expedition mobilize is always impressive. In this case, the number of tools and teams makes it even more exciting. We work in a giant garage we call a "high bay," because it has tall doors that allow large objects like ocean buoys in and out. In one half, the engineers assemble the autonomous underwater vehicle (AUV) SeaBED. The AUV was shipped from the United States to Greece in crates about 10 ft long, 3 ft wide, and 3 ft tall. All the pieces come out and are assembled. It kind of like a really expensive Lego kit — only this kit has wires, lots of them. Members of the technical team must carefully inspect each underwater connector, insert the O-rings (special parts of the watertight seals), and then seal the connections firmly together. Then, the subsystems must be tested and installed, and finally the complete system must be tested. It's a lot of work, but it does allow us to ship these important tools around the world for deployment on any ship of opportunity.
Meanwhile, in the other side of the high bay, the Greek human-occupied vehicle (HOV) Thetis is being outfitted. Modifications to the vehicle are made as WHOI oceanographic instruments and advanced navigation systems are integrated with the vehicle. As a safety certified vehicle intended to carry humans, the Thetis is subject to the rules of the "classification" society. This society is a review group that examines technical changes made to the vehicle to ensure the modifications do not compromise the safety of the system. Since our team is made up of Greeks and Americans, we're being especially careful with to communicate clearly with each other. Fortunately, our Greek hosts speak excellent English, because we don't yet speak Greek. For me, Greek is a hard language and I still struggle to pronounce efcharisto, or thank you. But I try to offer my thanks as much as I can. Working with international partners is a pleasure, but it can be demanding. Being comfortably polite makes long hours easier.
Team meetings also take place with the HCMR scientists and managers to plan the areas of the ocean we will explore. To date, a preliminary plan of action has been developed. We have a limited number of ship days and lots of technical and scientific objectives. Creating a balanced plan that maximizes the investment of research funds and ship days is complicated. I won't spoil the following logs by discussing the plan we created, but I will say that sitting around a table with nearly a dozen talented engineers and scientists from Greece and the United States was great fun. We even learned that one of the Greek marine chemists completed her post-doctoral research at WHOI. It is a very big ocean, but a small world.
Thetis
will make it one of the most precisely navigated HOVs in the world. (I am sure HCMR would like to see the equipment and special software left behind after this cruise, but it will have to go back to the U.S. for further development.) These tools should allow the scientists to know where the HOV is to a high degree of accuracy in a geo-referenced system. This means that they will know where the HOV is over the surface of the planet, not just relative to other features that might be moving (like the water itself). High quality navigation like this is rare, and watching the care that goes into the equipment and engineering is impressive. If GPS navigation signals could reach underwater we would just use that ubiquitous system. But since GPS radio waves can't travel underwater, we use the new navigation tools developed for ocean science by our engineers.
Another highlight during cruise preparations was a visit by a group of Greek school children. They did not stay long and I did not understand anything they (or their teacher) said, but the smiles on their faces spoke volumes. I could tell by the tone of their voices that their questions expressed a genuine interest in our work exploring the sea. Of course, with the lovely Mediterranean next door, it is easy to see why ancient mariners took to the seas. If it were not for the security fence around the HCMR it would be all too easy for us to go take a swim whenever we needed a break. However, as any good engineer will tell you, seawater and electronics do not mix, so we can't come back to the high bay with wet hair. One misplaced drop could damage an important circuit. So we must focus on the work and hope we get a chance for a swim before the ship sails.
By tonight we will be finished assembling, testing, and calibrating our sophisticated tools; and we will embark on the beginning of our 10-day research cruise to explore the mysteries of the Aegean Sea. As a good friend of mine once said: onward and downward . . .
---
Sign up for the Ocean Explorer E-mail Update List.