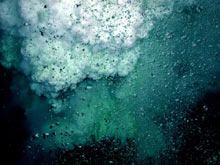 A degassing event at Brimstone Pit at NW Rota-1 volcano releases an extraordinary number of bubbles, probably carbon dioxide. The yellow parts of the plume (seen here in the background) contain tiny droplets of molten sulfur. Click image for larger view and image credit.
---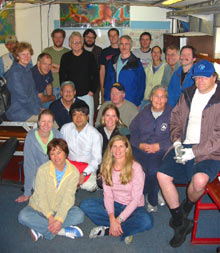 Submarine Ring of Fire 2006 Science Party Explorers:
Front row (from left): Susan Merle, Andra Bobbitt, Leigh Evans;
Row 2: Lori Savage, Ko-ichi Nakamura, Julie Huber, Sharon Walker;
Row 3 (kneeling): Ron Greene, John Dower;
Row 4: Verena Tunnicliffe, Joe Resing, Bob Embley, Dave Butterfield, Sheryl Bolton, Cornel de Ronde, Bill Chadwick;
Row 5: Boku Takano, Ben Larson, Rick Davis, Nick Deardorff, and Nathan Buck.
Click image for larger view and image credit.
---
Submarine Ring of Fire 2006: Mariana Arc
Mission Summary
April 18 - May 13, 2006
Bob Embley
Chief Scientist — Submarine Ring of Fire Expedition 2006
Geophysicist
NOAA Vents Program, Pacific Marine Environmental Laboratory
Read the SRoF'06 Final Cruise Report (8.5 Mb, PDF)

SRoF'06 Exploration Highlight Video (Quicktime, 272.1 Mb)
After all the months of preparation, the extremely exciting Submarine Ring of Fire 2006 (SRoF'06) expedition on the research vessel (R/V) Melville with the Jason II remotely operated vehicle (ROV), the hectic follow-up period of responding to the media requests for stories on the eruption — we can now reflect on this rich experience. When we departed Guam on April 18, we had high expectations, but I don't think any one of us suspected the full magnitude of the discoveries we were about to make. We really pushed the envelope of exploration on one of Earth's most extreme environments: the shallow submarine volcanoes of the Mariana arc.
The ongoing eruption of NW Rota-1 volcano (after at least two years!) was obviously the highlight of the cruise. The video taken during our dives here became well known throughout the world in the weeks following our expedition, both on the internet and on various television broadcasts. When we drove into the crater of Brimstone Pit on April 23 Greenwich Mean Time (GMT) during Dive 187, the activity appeared to have almost ceased. But over the next few days the activity built until it was a full-scale eruption — more active than on either of our previous two expeditions. The volcano was belching red rock extrusions of lava and sudden bursts of gas and ash particles that, at times, enveloped the Jason II ROV. The small hydrophone we deployed nearby recorded, for the first time, the sounds of a sea-floor eruption concurrent with visual observations. However, what was perhaps the most amazing part of the experience was the fact that we could actually observe it! It is unlikely that a similar eruption on a volcano above sea level could have been observed and sampled as thoroughly as we were able to do.
The next big surprise came at Daikoku, a volcano that was not thought to be particularly active during the previous (and relatively brief) visits in 2004 and 2005. The discovery of the "Cauldron" sulfur pond was extraordinary. It provided us with a unique window into what we now believe is an extensive subsurface infiltration of molten sulfur within many of the active arc volcanoes.