Water Filtration Puzzles
June 29, 2005
Terry Whitledge
Chemical and Biological Oceanographer
University of Alaska, Fairbanks
The growth of the single-celled plants in the ocean known as phytoplankton provides the basis of all food in the ocean for many forms of animals. Our group of three people is collecting water and phytoplankton samples to better understand the amount of food that will be available in the water under the ice for microscopic animals (zooplankton). The longer term goal of our project is to understand the factors that control the phytoplankton growth well enough to predict possible changes in the Arctic Ocean; such changes may occur due to climate warming and a change from sea ice cover to open water.
Many of the single-celled plants (phytoplankton) that drift around in water under the ice are collected with filters that have microscopic holes. These "pore size" holes are generally are about 0.5 to 1.0 microns; in comparison, the thickness of a human hair is about 100 microns. This is a convenient way to collect the small plant cell from the water but after several hundred milliliters are filtered, the pores become clogged and they do not let water molecules or small particles pass through.
We commonly filter water samples from 10 to 20 different depths at a location, noticing when certain samples filter slowly because they get clogged. At the end of filtration, we also note the color of the material collected on the filter. These colors range from green to brown to yellow.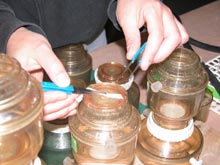 A used filter containing phytoplankton is rolled up and placed in a small, glass vial for additional testing. After water samples have been filtered, the material collected on them typically has a color ranging from green to brown to yellow. This sample has very little color, providing puzzling results. Click image for larger view.
---
Many of the samples we have filtered so far have been typical, with light green or yellowish-green colors, and a Many of the samples we have filtered so far have been typical, with light green or yellowish-green colors, and a liter taking about 30 minutes to filter. Several samples we collected from depths of 30-50 meters, however, have very little color and require more than 1 hour to filter. This is puzzling, but we speculate that the phytoplankton in these samples may be very small and could have a jelly-like exterior that is "sticky."
We will continue to monitor the filtering rate and scan the filters with a microscope to try to identify the organism(s). Identification of phytoplankton while on a research vessel, however, is very difficult because the ships movements prevent a clear view under high magnification.
---
Sign up for the Ocean Explorer E-mail Update List.