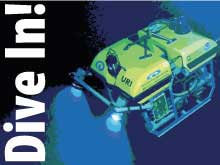 ---
Education Lesson Plans
The "Return to Titanic" expedition presents a unique opportunity to engage explorers of all ages as we journey to a world that few have seen. Nearly 20 years after first finding the sunken remains of the R.M.S. Titanic, marine explorer Robert Ballard returned in June 2004 to help the National Oceanic and Atmospheric Administration (NOAA) study the ship's rapid deterioration.
Dr. Ballard and scientists from NOAA and other institutions spent 11 days at the site, mapping the ship and conducting scientific analyses of its deterioration. The team worked aboard the NOAA Research Vessel Ronald H. Brown from May 30 through June 9, and used remotely operated vehicles (ROVs) to conduct a sophisticated documentation of the state of Titanic that was not possible in the 1980s. In addition to mapping Titanic, expedition goals included the microbial research of scientist Roy Cullimore, who studied the natural deterioration of the ship's hull. Tiny microbes that feed on iron and create icicle-shaped formations known as rusticle are responsible for this deterioration. While rusticles have been observed for many years, little is known about them.
Educators and scientists working with NOAA during May 2004 developed a series of lesson plans for students in Grades 5 – 12 that are specifically tied to the expedition. These lesson plans focus on cutting-edge ocean exploration and research using state-of-the-art technologies. Lessons focus on biodeterioration processes on Titanic, galvanic exchange and deterioration, and how marine archaeologists use historical and archaeological data to draw inferences about shipwrecks.
The lesson plans are grouped into the following categories:
Grades 5-6
Grades 7-8
Grades 9-12 (chemical, biological, earth, and physical sciences)

Each grade-level grouping includes activities that focus on the exploration and research being conducted as part of the expedition. In addition to being tied to the National Science Education Standards, the hands-on, inquiry-based activities include focus questions, background information for teachers, links to interesting Internet sites, and extensions. Slide shows that document the latest discoveries and complement the lesson plans, complete with compelling images and video, were sent back from sea and can be found at RMS Titanic 2004 Expedition. Teachers are encouraged to use the slide shows to supplement the lesson plans. Additionally, teachers are encouraged to visit National Geographic
to supplement their lessons with even more information about this expedition.
Read a description of each lesson plan and/or download them to your computer. All of the lesson plans are available in pdf format, and may be viewed and printed with the free Adobe Acrobat Reader
. To download a lesson plan, click on its title from the list below.
---
"Return to Titanic" Live Underwater Telecast
On Monday, June 7, 2004, at 9 p.m. ET/PT, the National Geographic Channel gave audiences unprecedented access to the ongoing expedition by broadcasting a one-hour special, "Return to Titanic," which originated from the NOAA R/V Ronald H. Brown and included a live underwater telecast from the Titanic. Simultaneous with the expedition, the Mystic Aquarium & Institute for Exploration
enabled thousands of children across the country to experience the Titanic mission as it occurred. From June 4 through 9, four shows a day were transmitted live from the expedition via satellite and Internet2 to participating sites. The JASON Foundation for Education has created a new middle-school math curriculum called "JASON Math Adventure: Geometry and Return to Titanic," which follows the work of researchers on the expedition. Students will learn how geometry concepts are used to position the Ronald H. Brown at the Titanic wreck and the ROV Hercules on the Titanic's bow.
---
RMS Titanic 2004 Expedition Lesson Plans

Looking for Clues (8 pages, 563k)
Focus: Marine archaeology of the Titanic
In this activity, students will be able to draw inferences about a shipwreck given information on the location and characteristics of artifacts from the wreck, and will list three processes that contribute to the Titanic's deterioration.
---
Galvanic vs. Titanic (5 pages, 400k)
Focus: Galvanic exchange and deterioration of the Titanic (Physical Science)
In this activity, students will be able to describe galvanic exchange and explain how it contributes to deterioration of the Titanic. Given two dissimilar metals and information on their position in an Electromotive Series, students will be able to predict which of the metals will deteriorate if they are placed in a salt solution. Students will also be able to list two other processes that contribute to the shipwreck's deterioration.
---
What's Eating Titanic? (5 pages, 548k)
Focus: Biodeterioration processes (Physical Science/Biological Science)
In this activity, students will be able to describe three processes that contribute to the deterioration of the Titanic, and define and describe rusticles, explaining their contribution to biodeterioration. Students will also be able to explain how processes that oxidize iron in Titanic's hull differ from iron oxidation processes in shallow water.
---
For More Information
Contact Paula Keener-Chavis,
Director, Education Programs
NOAA Office of Ocean Exploration
Other lesson plans developed for this Web site are available in the Education Section.