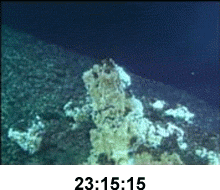 ---
A Return to Brimstone Pit
Bob Embley
Geophysicist
Pacific Marine Environmental Laboratory, NOAA
I was invited to participate in an expedition to the Mariana volcanic arc in October 2005 on board the Japanese research vessel Natsushima with the ROV Hyper Dolphin. We made several dives at NW Rota-1 volcano, because we were curious to see if it was still continuing the eruptive activity that we discovered during our Ocean Exploration Expedition in April 2004.

Amazing scene of billowing smoke rising from a small crater (SRoF'04 Exploration) (mp4, 5.4 MB)

The incredible vista of Brimstone Pit (SRoF'04 Exploration) (mp4, 5.6 MB)
Amazingly, we found that Brimstone Pit was even more active than it had been when we first saw it in 2004! During our October 2005 visit, it was ejecting rocks, sulfurous clouds, and gas droplets during vigorous explosive bursts. We also found that the rim of Brimstone Pit was 20 meters shallower and much narrower than it had been in 2004, apparently because it had built up a new cone over the eruptive vent. This suggests that it may have been continuously erupting during the 18 months between our 2004 and 2005 visits. The two species of shrimp that we found in 2004 are still living in and around the hydrothermal vents at the summit of NW Rota-1, but are apparently keeping their distance from the actively erupting crater. These are very exciting observations and we are grateful to the chief scientist of the October 2005 expedition, Yoshihiko Tamura, who generously allowed me to participate in the R/V Natsushima expedition, which was funded by JAMSTEC
.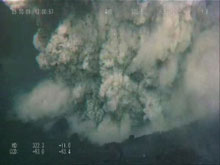 This movie shows the first view of the rim of Brimstone Pit in October 2005. The eruptive vent was found to be even more vigorously active than it was in April 2004! Each eruptive burst throws out rocks, sulfurous clouds, and volcanic gases. The dark particles seen falling out from the clouds are pieces of freshly erupted lava.

More amazing scenes from the Brimstone pit during a 2005 expedition. (mp4, 5.5 MB)
---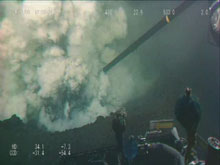 It is observed that during each burst from Brimstone Pit in October 2005, gas droplets float up from the eruptive cloud. The manipulator arm of the Hyper Dolphin ROV places a probe into the cloud and measures a temperature of 130°C [266°F], much higher than was measured last year [only 30°C], but still well below the boiling point of seawater at this depth [530 meters].

Gas droplets float up from each eruptive cloud burst from Brimstone Pit. (mp4, 5.5 MB)
---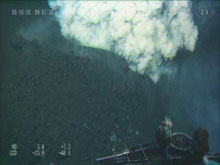 When observers in October 2005 get a good view of the rim of Brimstone Pit, they note that the crater is shallower and narrower than it was last year. The crater is 20 meters shallower than last year, built up from the rocks being ejected out of the vent. Density flows are observed spilling over the rim of the crater.

Scientist observe a shallower and narrower Brimstone Pit than in 2004. (mp4, 4.5 MB)
---