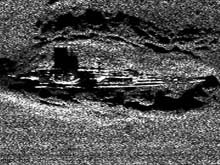 ---
The U-166
October 5-11, 2003
Dan Warren and Rob Church
C&C Technologies, Inc.
In July 1942, the German U-boat U-166 was attacked and sunk by the U.S. Navy Patrol Craft 566. As the only U-boat lost in the Gulf of Mexico, the U-166 represents an important piece of Louisiana and U.S. maritime history. C&C Technologies, in conjunction with NOAA and the PAST Foundation, is planning an expedition in fall 2003 that would provide a unique educational opportunity for citizens, especially schoolchildren and other Louisiana residents, to watch as scientists explore the wreck site.
Discovered and identified in 2001 by Dan Warren and Rob Church of C&C Technologies

, the U-166 rests in 5,000 ft of water some 50 mi southeast of New Orleans. Although the 2001 expedition positively identified the vessel as the U-166, time and equipment limitations prevented proper documentation of the site. The purpose of the upcoming expedition is to map, photograph, and conduct biological experiments to better understand what happened on July 30, 1942, and to research how the vessel, built to destroy, is providing life to colonies of undersea creatures. As part of this documentation, the PAST Foundation

is planning several educational offerings.