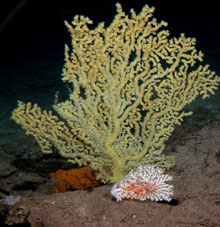 ---
Leg II - Reproductive Biology and Population Genetics of Precious Corals in the Hawaiian Archipelago
September 28 - November 5, 2003
Amy R. Baco-Taylor, PhD
Postdoctoral Fellow
Woods Hole Oceanographic Institution
The isolation of the Hawaiian Archipelago makes it an ideal location to study how new species form (speciation) and the dispersal of benthic (bottom-dwelling) organisms. Diverse coral assemblages, including gorgonian and precious corals, thrive on Hawaiian seamounts and islands. Hawaiian precious corals represent a profitable fishery, yet little is known about the biology, ecology, and dispersal of the exploited species. The coral fishery focuses on three coral species: pink coral (Corallium secundum), red coral (Corallium lauuense), and gold coral (Gerardia sp.). These species are concentrated at depths of 300-550 m, and are found throughout the Hawaiian Archipelago. The highest abundances are found in the Northwestern Hawaiian Islands (NWHI) and along the Emperor Seamount chain.
Of the three species of corals that are part of the fishery, only the reproductive biology of pink corals is known. Thus, the reproductive data and growth rates for pink corals were used to make management decisions for both red and gold corals. Management of gold corals, on the other hand, is based primarily on estimates of its growth rates. Because there tends to be a great diversity of coral reproductive capabilities, it is important to determine the reproductive modes of all of these little known, but commercially important, species.
On this cruise, we searched for new precious coral beds and collected samples of all three species of precious corals at several locations in the NWHI. The objectives were: (1) to examine the reproductive biology of deep-water corals, particularly gold and red corals, and (2) to determine the dispersal capabilities of each of the three precious coral species by gaining a better understanding of their population genetics.
Although most of the results of this project will come after intensive laboratory studies during the next few months to a year, we made some exciting discoveries in the field. We located four new precious coral beds, a couple of which had young gold coral trees. We have not observed young gold coral trees in the beds in the Main Islands. In addition, the gold coral samples began to spawn in the jars as we brought them up to the surface.
We also saw evidence of human impacts on the coral beds by longlining, a method of commercial fishing. Near a large, newly discovered precious coral bed, we observed an area covered with stumps with very few live coral trees. Toward the end of the dive, we discovered that the cause of this destruction was very likely the pieces of longlining gear we observed lying on the sea floor. Damage done by trawling is well documented because pieces of coral trees literally come up with the net, but longlines only bring up what's on the hooks; thus, it is more difficult to document the destructive effects of longlining on sea life.
We also had an unexpected visitor on one of our dives at a coral bed at a depth of well over 500 m. We were about to sample a coral on a steep wall, when suddenly, a monk seal swam up to the submersible, peeked into each porthole, and swam away!
---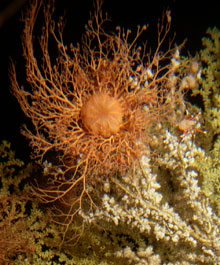 ---
Seamount Surveys of Deep-Water Coral Distributions as Related to Geologic Setting in the Northwestern Hawaiian Islands
Amy R. Baco-Taylor, PhD
Postdoctoral Fellow
Woods Hole Oceanographic Institution
Timothy M. Shank, PhD
Assistant Scientist
Woods Hole Oceanographic Institution
John R. Smith Jr., PhD
Geologist
Hawaii Undersea Research Laboratory
Christopher Kelley, PhD
Chief Biologist
Hawaii Undersea Research Laboratory
Seamounts are unique deep-sea environments. The fauna of seamounts are often quite isolated from other deep-sea fauna, potentially leading to their reproductive isolation and eventually to the formation of new species. Not surprisingly, a large percentage of the fauna that have been studied on seamounts are endemic (that is, found only on that particular seamount). For example, 34% of the species at some south Pacific seamounts are endemic. Most seamounts are dominated by hard substrate habitats and most of the fauna are suspension feeders, including deep-sea corals. In many parts of the Pacific Ocean, seamounts are being scraped clean of all fauna during destructive trawl fishing for orange roughy and other deep-sea fishes. Because of this threat, it is important to characterize these fauna, and to gain a better understanding of the biology of these unique habitats.
The seamount fauna of the Northwestern Hawaiian Islands (NWHI) are largely unexplored. On this cruise, we explored and characterized the fauna and geology of three newly mapped seamounts in the NWHI, using the Pisces IV and Pisces V submersibles and the RCV-150 ROV (remotely operated vehicle) operated by the Hawaii Undersea Research Laboratory (HURL). This multidisciplinary project included a fisheries biologist, a marine benthic ecologist, and a marine geologist. We prepared detailed geologic maps and documented the fauna found at various depths on these three seamounts. Animals such as corals were collected for species identification. Rocks were also collected to understand the seamounts' geologic history.
Several interesting discoveries were made during this project. We found extensive coral and sponge communities at depths of 1,500-1,800 m. In some areas, the community was so dense that we could not see the substrate beneath. Many of the sponges were more than a meter across. We collected many species of corals, including about 55 of the 87 known species of octocorals (sea fans) from Hawaii. In addition, we discovered many new species: at least 12 new octocorals, 2 new species and one new genus of black coral, and several new species of stylasterid hydrocorals. We also collected a crinoid (sea lily) that represents a new genus.
Most everyone is familiar with Hawaii's extensive shallow-water coral reefs. What most people don't realize is that Hawaiian corals are actually more diverse in deep-water habitats than in shallow water. Hawaii's deep-sea corals harbor extensive communities of invertebrates and provide critical habitat for many other organisms as well (similar to deep-sea corals in Alaska). The recently established Northwestern Hawaiian Island Coral Reef Reserve is designed to protect shallow corals in the Northwestern Hawaiian Islands. Our explorations demonstrate that deep-sea coral communities in the Northwestern Hawaiian Islands also need protection.