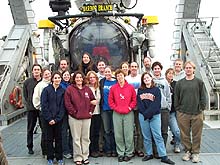 ---
Studying Deep-sea Biology in the Gulf of Mexico
Student Report
February 9, 2003
Shawn M. Arellano, Doctoral Candidate
Oregon Institute of Marine Biology
University of Oregon
Everyone eagerly awakened early this morning, as we arrived at the Brine Pool, the site for our first submersible dive. Professor Paul Tyler and Tracey Smart, a master's student at the Oregon Institute of Marine Biology, were the scientists to make the first dive. Yesterday, we had a lottery to determine the order in which the students would dive, and Tracey was the lucky winner! The seas were rough, but at 8 am, Paul and Tracey had climbed into the submersible; however, the winds began to pick up, and the crew decided the conditions were not safe to dive. Paul and Tracey did not dive that morning; in fact, no dives were made for the remainder of the day.
Just because we were unable to dive today did not mean there was no work to do. Many of us spent the day preparing for future dives and planning shipboard experiments. For example, I built larval tube traps out of PVC pipes that were to be deployed at the Brine Pool on a later dive. When we were done with some of these preparations and everyone had their "sea legs," we took advantage of the downtime to hold class. Unlike most of our cruises, this one was not devoted to research alone. Twelve students from the University of Oregon joined Craig Young, the principal investigator, and his lab group and colleagues, on this cruise to participate in a deep-sea biology course.
In addition to submarine dives, the course entails regular lectures and two class discussions over a series of research papers chosen by professors Young and Tyler. The students will also compile an atlas of cold-seep organisms. Each student will research, collect, dissect, and photograph an animal or group of animals, and create an entry in the atlas. In addition, during the cruise and the week following, each student or group of students will conduct a research project involving deep-sea organisms. Some students will do research related to their thesis work or collect data for other projects in which they are involved. At the end of the course, each student will give an oral progress report and turn in a written report of their findings. The research projects will be a valuable experience and exercise in learning to design experiments.
Today, Craig Everroad, a student in the course, began his project while we were WOW (waiting on weather). He was eager to conduct a couple of CTD casts to collect temperature, salinity, and depth data from the water column. The CTD also holds 24 Niskin bottles that can be triggered to sample water at various depths. Craig will be using these samples to look for phytoplankton throughout the water column. Craig hopes to learn more about the vertical distribution of deep-sea larvae.
Even though we did not dive today, we still accomplished quite a bit; the cruise and the course got off to a good start.