---
Mobilization: What is it exactly?
August 16, 2003
Margot Bohan
NOAA Office of Ocean Exploration
"Mobilization is scheduled for 1400 hours" . . . "be prepared to mobilize in 15 minutes" . . . "we have to mobilize soon, the Coasties are waiting for this spot."
What was all this talk about "mobilization" and "mobilizing" that I kept hearing during the morning leading up to our departure on this "Life on the Edge" expedition? Being that we had a 12- to 15-hour "steam" ahead of us (the transit time to our first dive site 120 miles out), I thought I'd write about mobilization and what it entails -- that is, what happens immediately prior to the ship's departure from shore and within hours of being under way.
Needless to say, essential to mobilization is the arrival of the science party. Members of the science party typically arrive within days to hours of mobilization. This particular group met with some unforeseen challenges. Several members, returning from a large symposium in Canada, narrowly missed falling victim to the recent blackout that hit much of New England, Michigan and Ohio. Just two hours prior to the massive power outage, the group managed to make it out of the Newark, NJ, airport on their way here -- if they hadn't been able to fly out, a long drive to Charleston, SC, in a rental car would have been the next option.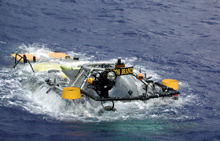 ---
Five other members of the science party arrived a spare 15 minutes before our scheduled departure, having been delayed several hours due to a flat tire. With everyone helping to offload trucks and trailers filled with equipment, things moved quickly. Using bungee cords and rope, members of the science team also proceeded to secure the items brought on board. In anticipation of rough weather, books, bottles of formalin, fishing nets, other sampling gear, and containers for collections were promptly lashed against the walls and floors of the ship. We departed on time thanks to teamwork, flexibility and patience, all clearly names of this game!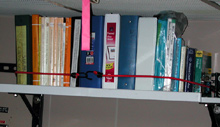 ---
Soon after we left Charleston Harbor, the chief scientist held a science overview meeting to discuss the cruise plan, science objectives, and schedule of research and sampling activities. Following the meeting, the science party congregated in the lounge for an orientation meeting about the Johnson- Sea-Link II submersible. A few trivial tidbits about the sub hadn't occurred to me, such as the fact that its globe shape causes objects to appear smaller than they are, warm clothes are often needed as it gets colder the deeper you go, and beverage intake should be limited since there is no plumbing onboard.
A funny highlight of the evening came during our ship safety meeting up on the bridge, at which time we were informed how to prevent emergencies and how to proceed in cases of emergency. The captain asked if any of us were unfamiliar with something called an immersion suit -- essentially a dry suit that will aid survival if you have to abandon ship. Most of us remained conspicuously quiet. Our Educator-at-sea, Doni Angell, raised her hand and, to her surprise, was volunteered to don the big orange suit, which, as the photo makes clear, is referred to fondly as the "Gumby suit."
At the close of our first day at sea, many of the science team and ship crew congregated on the stern to relax and visit. I sat for a few minutes but ultimately decided to give in to my drowsiness and head to my bunk. It's been really calm out. If this weather holds through the night, we can look forward to successful dives and surface sampling tomorrow. Stay tuned.