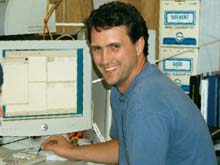 ---
A Message from the Chief Scientist
Dwight F. Coleman,
Director of Research
Institute for Exploration (IFE)
The 2001 NOAA/IFE Thunder Bay shipwreck mapping survey was a huge success. In just two weeks' time, we covered several hundred square miles and imaged dozens of shipwrecks with our newest vehicle, ECHO, a deep-towed, dual frequency sidescan sonar, which performed beyond our expectations. Our multidisciplinary team of geologists, engineers, and archaeologists worked around the clock, with virtually no down-time, to accomplish much more than our original goals. The crew of the Lake Guardian, a research vessel operated by the U. S. Environmental Protection Agency, was also excellent.
During the expedition, we imaged many well-known shipwrecks, such as the Monrovia, Grecian, Montana, and Pewabic, as well as some lesser-known shipwrecks, such as the New Orleans, E.B. Allen, D.R. Hanna, and Viator. In addition to these shipwrecks, we imaged many other interesting features on the lake floor. Numerous drag marks criss--crossed portions of the sanctuary. They appear to be a result of salvage attempts on many of the shipwrecks. Also, several geological features were noteworthy, including underwater sinkholes, some larger than a football field and tens of yards deep; and features resulting from the dissolution of limestone, or "Karst topography," which is prevalent in this part of Michigan.
We are very excited about the results from this expedition. Much work still remains to process all the data, and to develop a plan for next year, when the Institute for Exploration will revisit several shipwrecks and sinkholes with its remotely operated vehicles, Argus and Little Hercules. These vehicles will enable us to collect exceptional video and still-camera imagery of important cultural and natural resources -- future highlights of the Thunder Bay National Marine Sanctuary and Underwater Preserve.
---
Sign up for the Ocean Explorer E-mail Update List.