James Kendall, Ph.D., Alaska Region Director, Bureau of Ocean Energy Management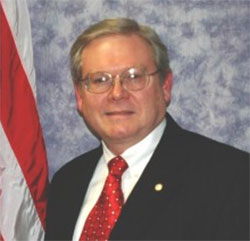 Dr. James (Jim) Kendall currently serves as the Director of the Alaska Outer Continental Shelf Region of the Department of the Interior's Bureau of Ocean Energy Management. 
Prior to moving to the 49th State, Dr. Kendall served in research management positions in the Bureau's Gulf of Mexico and headquarters offices where he, as now, is in the forefront of the science-based decision making. This has given him a unique perspective on ocean exploration as a critical tool in the stewardship of offshore energy and mineral resources.  Moving to Alaska, the state which gives the U.S. membership in a small, but important cadre of Arctic Nations, Dr. Kendall is continuing this theme of Exploration for Stewardship along our country's Northern coast.
Being an avid diver, Dr. Kendall has studied and explored coral reefs from the Caribbean to the Red Sea to Papua New Guinea; the shipwrecks of Truk (Chuuk) Lagoon; the almost mystical waters of the Galapagos Islands; and, most recently, he was certified to dive under ice. He is a Life Member of the American Academy of the Underwater Sciences.   
Dr. Kendall earned a bachelor's degree in biology from Old Dominion University and a Ph.D. in oceanography from Texas A&M University and completed a post-doctoral fellowship in Marine Biology from the Hebrew University of Jerusalem, Israel.
He is also a graduate of the Federal Executive Institute, Charlottesville, Virginia, and the Senior Executive Fellows Program of the John F. Kennedy School of Government at Harvard University.