Jamie Austin, Ph.D., Senior Research Scientist, University of Texas Jackson School of Geosciences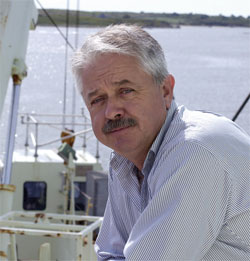 Dr. James (Jamie) Austin is a senior researcher at the Institute for Geophysics
, part of the University of Texas Jackson School of Geosciences.  He also serves as the Associate Director for International Relations.
Dr. Austin uses a variety of geophysical tools to examine the stratigraphic and structural evolution of a wide range of continental margin and lake environments around the world. He has worked on many continental margins, from the Arctic to the Antarctic.
Recent international collaborative efforts include: 
A high-resolution seismic profiling and coring investigation of Lago Fagnano, Tierra del Fuego (Argentina) in association with colleagues from Stanford University, the University of Geneva, and ETH/Zurich.  The primary objective was to decipher the geologic record of the lake's basins and to understand the pristine climate record contained in the lake's sediments.
A seismic expedition on the French vessel Alis to Sabine Bank west of the New Hebrides in the western Pacific in a search for ancient reefs.
A deep-crustal seismic investigation of part of the Sumatra accretionary prism, with investigators from the U.K. National Oceanography Center.  The target was the rupture zone of the tremendously destructive 2004 tsunamigenic earthquake.
A high-resolution seismic and coring investigation of the Israeli shelf offshore the ancient Roman city of Caesarea.
Dr. Austin has also led ocean exploration expeditions aboard the Ocean Exploration Trust vessel Nautilus offshore of Israel (2010, 2011) and Spain (2011), and in the Gulf of Mexico (2012) aboard NOAA's Okeanos Explorer.  He will lead another expedition aboard Nautilus to the Bahamas in 2013.
Dr. Austin holds a B.A. in geology from Amherst College and Ph.D. in oceanography from the Massachusetts Institute of Technology/ Woods Hole Oceanographic Institution Joint Program in Applied Ocean Sciences and Engineering.