Jenifer Austin Foulkes, Manager, Google Ocean Program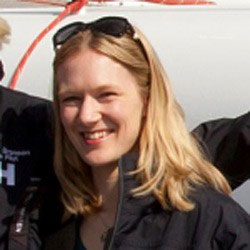 Jenifer Austin Foulkes is the manager of the Google Ocean Program, which includes the best consumer map of the ocean available in Google Earth and Google Maps and an Ocean Education Showcase with narrated stories by numerous contributors like Sylvia Earle's Mission Blue Foundation, the Cousteau Society, the Monterey Bay Aquarium Research Institute and NOAA.
She recently partnered with Catlin Seaview Survey to launch underwater Streetview in Google Maps. In 2007, she cofounded the Google Earth Outreach Program which supports nonprofit groups using Google's geotools to change the world.
The Google Ocean Program has received the Wildaid Leadership Award; the 2012 Blue Frontier Peter Benchley Excellence in Exploration award; the 2009 Aquarium of the Pacific's Conservation Award; and the 2009 Heal the Bay "Walk the Talk" Award Bring Back the Beach Award.
Jenifer holds an undergraduate degree in biology; a Master's degree from Stanford University in Neuroscience; and has done marine research at the Bermuda Institute of Ocean Sciences, the Woods Hole Oceanographic Institution; Florida State University; and the University of Washington's Friday Harbor Labs. In addition to serving on the Mission Blue foundation board, she also is a member of the Blue Ocean Film Festival and University of California Davis Bodega Marine Lab external advisory boards.