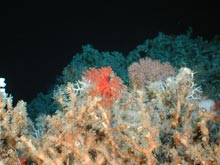 ---
Medicines from the Deep Sea: Exploration of the Gulf of Mexico
September 8-19, 2003
During this expedition, explorers sought untapped sources of new drugs within the U.S. Exclusive Economic Zone. The team collected and studied marine organisms found in deep-water habitats in the Gulf of Mexico in their quest to identify new medicines.
Deep-water marine habitats constitute a relatively untapped resource for the discovery of drugs derived from natural products. Virtually no drug discovery research has targeted the deep-water reef communities in this region, and, in particular, the microbial associates living in these communities. The team at Harbor Branch Oceanographic Institution
had a proven record of success in this field with the discovery of discodermolide, an antitumor agent that entered Phase I clinical trials in 2003. Prior observations by the group, as well as extensive review of published reports, strongly supported the premise that these habitats would yield exceptional new discoveries.
---
Updates & Logs
Click images or links below for detailed mission logs and updates.