Drilling for Core Samples
In the exercise below, you embark on a voyage of scientific discovery, seeking out the tectonic plates hidden deep beneath the sea. Earthquakes and volcanic activity in the area indicate that some type of plate boundary is nearby. Your plan is to map the age of the oceanic crust, because each type of tectonic activity leaves a distinctive age pattern on the seafloor.
You will move your ship across 100 square kilometers of ocean, drilling a sample from the crust and measuring its age wherever you click on your cursor. Once you have collected several samples, you should be able to locate and identify the plate boundary, based on the age patterns of the sea floor cores.
Click on the "Show Boundary" button if you get stuck or to check your conclusion.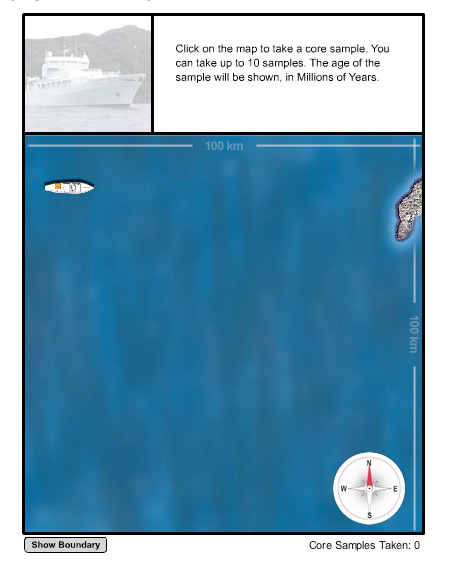 Answer These Questions
Describe how the plates are moving relative to one another.


They are colliding.




What type of plate boundary is this?


Convergent.




What does the sea floor topography look like in this area?


There is a deep, linear trench on the sea floor, at the edge of the subducting plate. A chain of volcanic islands and underwater volcanoes runs parallel to the trench, at some distance from the margin of the overriding plate.




Historical Background
Before the middle of the 20th century, scientists had neither the interest nor the ability to examine the bottom of the deep ocean. Most assumed that the sea floor was flat, muddy, and boring. During WWII, and the Cold War that followed, however, national security concerns made probing the hidden depths of the oceans vitally important, and new technologies arose for sampling the sea floor through drilling and remote sensing. These techniques included the ability to cut out and retrieve long cores from the seabed and precisely measure their ages, as you just did in the exercise.
As the true nature of the seafloor was revealed, geologists and oceanographers were repeatedly surprised. Dramatic seafloor topography included both soaring mountain ranges and incredibly deep trenches and canyons. The ocean basins were underlain with thin, relatively young basalt, not the thick, often ancient granite that makes up most of the continents. They also display highly ordered patterns of age, density, magnetism, and sediment cover totally unlike chaotically arranged continental rocks.
In the 1960's, these data were used to create the theory of sea floor spreading, which states that ocean basins split open along high seafloor ridges. Basalt magmas from the upper mantle well up into the breach and solidify into new oceanic crust, which then slides sideways across the Earth's surface until it is forced back into the planet's interior at trenches. The evidence for sea floor spreading was eventually combined with information gathered on the continents to develop the more comprehensive theory of plate tectonics.
Related Links
Multimedia Discovery Missions: Lesson 1 - Plate Tectonics

Multimedia Discovery Missions: Home