Quicktime7 (H.264), 160x120, 612 Kb
Quicktime7 (H.264), 640x360, 10.4 Mb
Quicktime7 (H.264), 960x540, 19.5 Mb

Downloads:
Windows Media, 960x540, 8.6 Mb
MP3 (Audio), 3.2 Mb
Powerpoint Presentation, 35 Mb
Part Three - Okeanos Explorer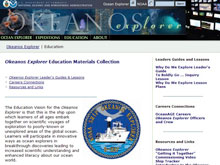 Slide 29:
Next, let's look at the Okeanos Explorer Education Materials Collection. Click on Okeanos Explorer Collection in the right hand column.
Slide 30:
The Education Vision for NOAA's Ship Okeanos Explorer is that this is the vessel upon which learners of all ages embark together on scientific voyages of exploration to poorly-known or unexplored areas of the global ocean. Participating in innovative ways as ocean explorers in breakthrough discoveries will lead to increased scientific understanding and enhanced literacy about our ocean world.
To help fulfill this vision, the Okeanos Explorer Education Materials Collection is being developed to encourage educators, students, and citizen scientists to become personally involved with the voyages and discoveries of America's first Federal ship dedicated to Ocean Exploration.
Notice that the header at the top of the page is slightly different. All education materials and expeditions associated with the Okeanos Explorer will have this header. You can return to the main Ocean Explorer pages by clicking the Ocean Explorer link in the black bar of the header.
Slide 31:
Lesson plans in the Collection focus on three themes:

"Why Do We Explore?" (reasons for ocean exploration);
"How Do We Explore?" (targeting exploration methods); and
"What Do We Expect to Find?" (sharing recent discoveries that give us clues about what we may find in Earth's largely unknown ocean).
For each of these themes, a Leader's Guide for Classroom Explorers provides background information, links to resources, and an overview of recommended lesson plans. In addition, an Initial Inquiry Lesson for each of the three themes leads student inquiries that provide an overview of key topics. And, a series of lessons for each theme guides student investigations that explore these topics in greater depth.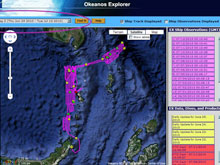 Slide 32:
Within the list of Okeanos Explorer materials look for the Ship Tracker link. This will take you to the Okeanos Explorer Digital Atlas.
Slide 33:
Within the Digital Atlas, go to the "Select a Cruise" drop down menu in the top left corner. Select a cruise and click the "Find It" button.
This will take you to a map showing the course of the selected cruise. All Okeanos Explorer cruises are archived here.
The pink lines indicate the track of the ship.
The yellow dots provide pop up boxes with daily information, images and links to more information on the Ocean Explorer Web site.
The green dots provide links to video highlights from that location.
And the red dots provide data from a water quality instrument called a CTD, which stands for Conductivity, Temperature and Depth.
Here you will find graphs for temperature, sound velocity, and salinity plotted against depth in the location of the red dot.
Related Links