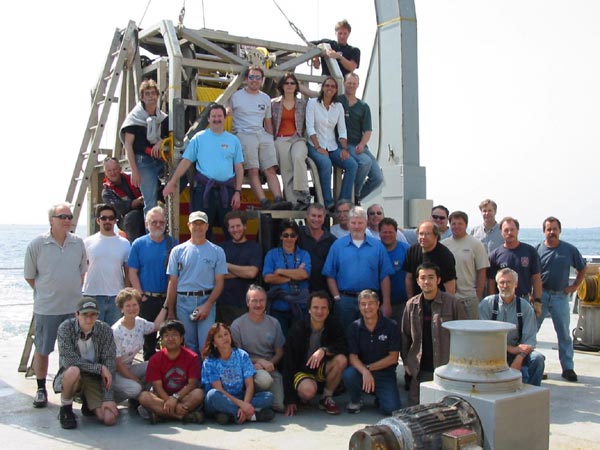 The Submarine Ring of Fire 2004 expedition science team and crew:
Front row (left to right): Jonathan Rose, Verena Tunnicliffe, Ko-ichi Nakamura, Susan Merle, Dave Butterfield, Kim Juniper, Ed Baker, Shunsuke Miyabe, Bob Holland.

Standing (left to right): Jim Illman, Neil Basu, Bob Embley, Jim Hein, Ben Larson, Anna Metaxas, Cornel de Ronde, John Lupton, John Dower, Bob Stern, Keith Tamburri, Lee Evans, Craig Moyer, Geoff Lebon, Kevin Roe, Bob Bennett, Roger Adamson.

Seated/standing on ROPOS (left to right): Shane Lovelace, Kim Wallace, Bill Chadwick, Sebastien Durand, Shannon Ristau, Sheryl Bolten, Ian Murdock.

Top right on ROPOS: Keith Shepherd.
Image courtesy of Submarine Ring of Fire 2004 Exploration, NOAA Vents Program.
Related Links