AUV Sentry
Autonomous Underwater Vehicle Sentry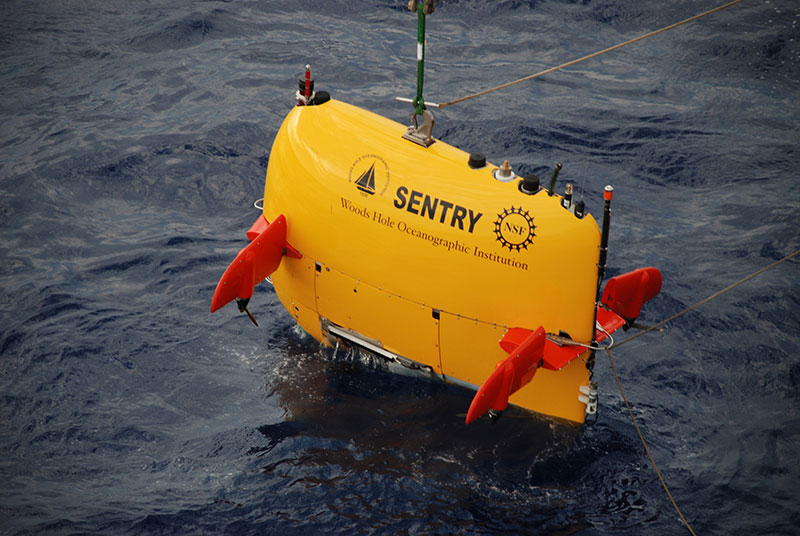 Sentry is an autonomous underwater vehicle (AUV) capable of diving to depths of 3.7 miles (6,000 meters) without direct human control or connection to a ship and can remain submerged for up to 40 hours.
Operated by the Woods Hole Oceanographic Institution 's National Deep Submergence Facility , Sentry's unique design allows it to "fly" very close to the seafloor on rough terrain. Common missions for the vehicle involve surveying the seafloor to map features such as hydrothermal vents or deep-sea coral reefs or even shipwrecks and oil wells. Sentry can also make high-resolution maps of a region so that scientists can better understand large-scale geological processes.
Sentry carries an extensive (and growing) suite of scientific instruments . The vehicle has a sonar mapping system that includes a high-resolution multibeam echo sounder capable of generating detailed three-dimensional models of the seafloor with a resolution as fine as 20 inches per pixel. Sentry also has a high-resolution digital camera that can take a picture every three seconds, providing scientists with an immense amount of data about the seafloor. In addition to its standard sensors, Sentry has carried several custom-designed instruments, including pumped filter samplers to collect plankton and a miniature mass spectrometer.
Sentry can be used as a stand-alone vehicle on a wide range of research vessels but can also be used very effectively in tandem with human-occupied vehicle Alvin or other remotely operated vehicles.
Submersible Namesake
Sentry is much like a guard, keeping watch.