ROV Kraken2
Remotely Operated Vehicle Kraken2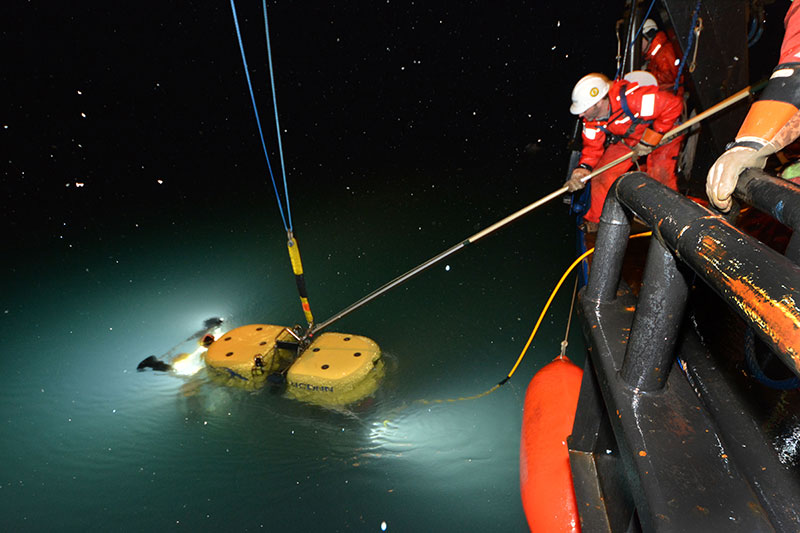 The Kraken2, or "K2," is science-class remotely operated vehicle (ROV) that was owned and operated by the Northeast Underwater Research, Technology and Education Center (NURTEC) , but as of 2018, is under the auspice of the Department of Marine Sciences at the University of Connecticut.
Capable of operating to depths down to 3,280 feet (1,000 meters), the K2 was purposely developed to support a wide assortment of scientific sampling, imaging, and data collection devices needed to explore our ocean. The vehicle's control architecture allows operation of a range of high-definition video and still cameras and a combination of lighting systems and configurations for imaging the deep. A hydraulic manipulator with various claw and wrist attachments allows for physical and biological sample collection, device deployment, component recovery, and other manipulative functions. Custom built "bioboxes," a rosette sampler, and an eight-bucket suction sampler allow for collection of a range of biological samples and sediment push cores. Sonar systems on the vehicle provide active object location (e.g., reefs and shipwrecks) and vehicle and ship tracking and data logging.
A pilot and navigator on a surface vessel (remotely) control the K2, which is connected to the ship via a flying tether that in turn is connected to a depressor weight that is connected by a second tether to winch on the ship's deck. The K2 has conducted hundreds of dives to date and logged hundreds of hours of bottom time operating from a variety of support ships of various sizes, including Research Vessel (R/V) Atlantis, R/V Brooks McCall, R/V Connecticut, R/V Hugh Sharp, NOAA Ship MacArthur II, R/V Megan Miller, NOAA Ship Nancy Foster, R/V Neil Armstrong, and R/V Norseman II.
NURTEC and its predecessor, the NOAA Undersea Research Center, supported hundreds of undersea research and exploration projects spanning over 30 years using ROVs, human occupied vehicles, autonomous undersea vehicles, and advanced diving techniques. The Center also developed scientific sampling technologies and used undersea technology to engage hundreds of teachers and students and thousands in the general public through a variety of educational programs.
Submersible Namesake
The kraken is a legendary octopus-like sea monster of giant size that would attack ships by wrapping its arms around a ship's hull.