ROV Argus
Remotely Operated Vehicle Argus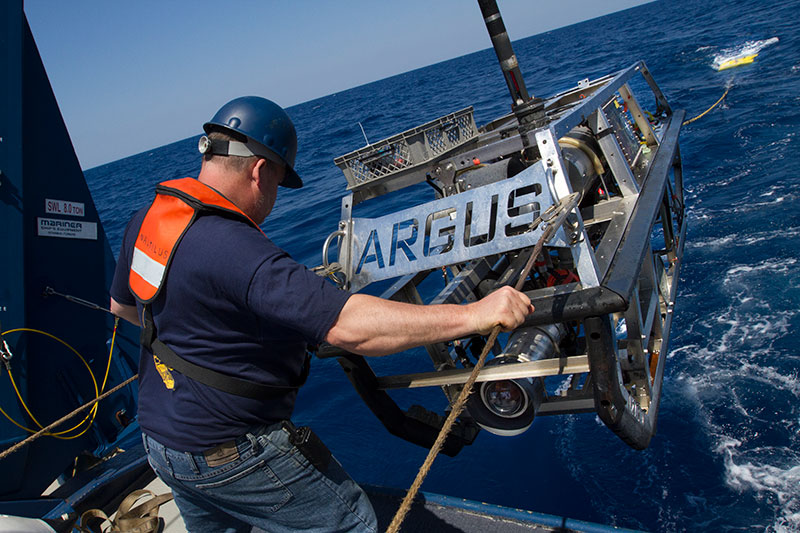 Referred to as a "tow sled," remotely operated vehicle (ROV) Argus typically operates in tandem with ROV Hercules, although it can also operate alone. Both vehicles are deployed from the Ocean Exploration Trust 's Exploration Vessel (E/V) Nautilus .
Argus "dangles" at the end of a steel-armored fiber-optic cable that is tethered to E/V Nautilus at the sea surface. Because Argus lacks a buoyancy module and is built of heavy stainless steel, its movements are controlled by moving the ship or raising and lowering the cable. A short 100-foot (30-meter) tether connects Hercules to Argus. By keeping the tether between Argus and Hercules slack, Argus can absorb the brunt of any ship movements, so that Hercules, the workhorse of the duo, can remain stable and collect high-definition video from the seafloor.
Argus carries a high-definition video camera similar to the one on Hercules, as well as large lights that illuminate the area around Hercules. The overhead view from Argus allows the pilots and scientists to get a better of view Hercules' surroundings. Thrusters on Argus control its heading, so pilots "flying" the ROV while sitting in the control room on E/V Nautilus can aim the video cameras and lights toward Hercules and sites of interest.
Although Hercules is depth rated to 2.5 miles (4,000 meters), when operating alone, Argus can dive deeper – down to 3.7 miles (6,000 meters).
Submersible Namesake
In Greek mythology, Argus is a many-eyed giant; his byname, "Panoptes," means "the all-seeing one" in Greek.