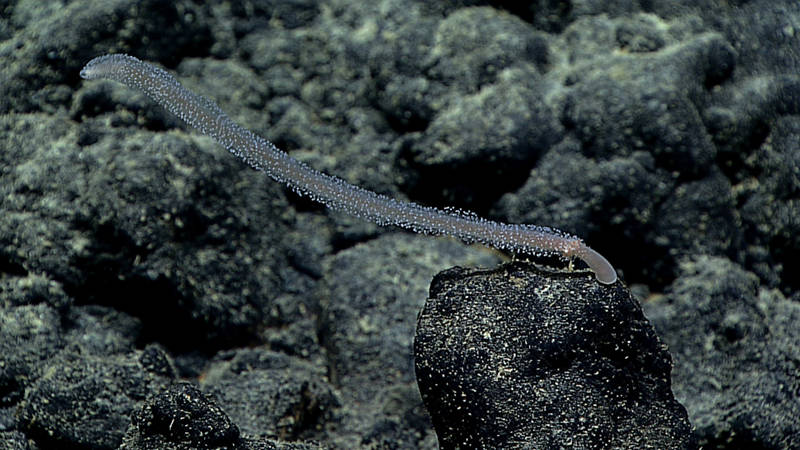 Ten minutes into the dive, our science team found this unidentified candelabrid solitary hydroid. After the expedition concludes and we are able to get this sample back to the lab, we will have a better idea about exactly what it is. Image courtesy of the NOAA Office of Ocean Exploration and Research, 2015 Hohonu Moana. Download larger version (jpg, 1.3 MB).
Leg 4 Dive 12: Abyssal Ridge
September 25, 2015
17.61467 N, 169.64495 W
Today we celebrated the one-year anniversary of the Pacific Remote Islands Marine National Monument with the deepest dive ever conducted in the monument. Dive 12 explored a ridge feature west of Karin Ridge, starting from a depth of 4,241 meters. After only about 10 minutes on the seafloor, our science team was stumped by a very unusual hydroid species. As ROV Deep Discoverer (D2) continued up slope, we documented several different species of sponges and sea cucumbers, a few brittle stars, a brisingid sea star, squat lobsters, crinoids, barnacles, ribbon worms, and two pregnant crustaceans (a possum shrimp and a large isopod). We also encountered several fish including cutthroat eels and cusk eels. Sponges were by far the most abundant organism observed during the dive.