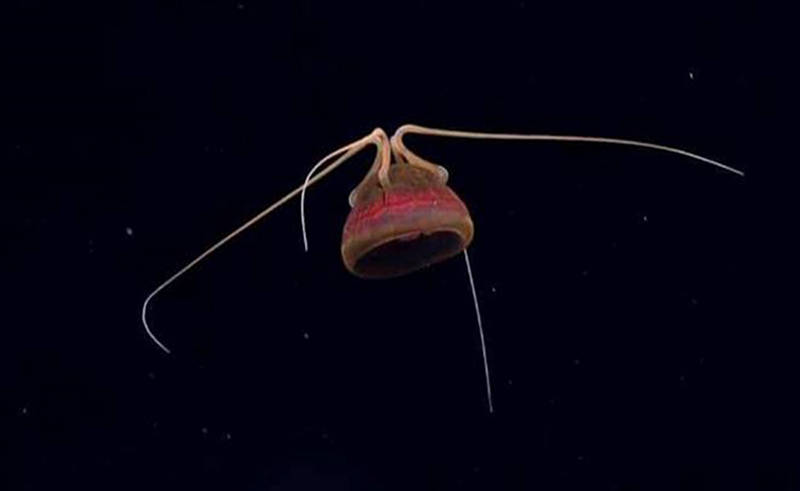 An unusual jelleyfish noted about halfway through Dive 05 at Deep Twin Ridge. Image courtesy of the NOAA Office of Ocean Exploration and Research, 2015 Hohonu Moana. Download image (jpg, 14 KB).
Leg 4 Dive 05: Deep Twin Ridge
September 18, 2015
15.63428 N, 169.48827 W
ROV Dive 05 was conducted on Deep Twin Ridge, on the south side of the Johnston Seamounts in the Pacific Remote Islands Marine National Monument. ROV Deep Discoverer landed on a rubble strewn seafloor with little visible benthic fauna at a depth of 2,445 meters. Fauna throughout the dive was diverse, but sparse, with occasional large coral colonies including a bamboo coral over 14 feet tall. Also documented were a range extension for a long-finned cusk eel – potentially the first time it has ever been observed in the Central Pacific; an unusual jellyfish; octocorals; several different polychaetes; black corals; sea pens; and a diversity of echinoderms including sea cucumbers, crinoids, and a sea urchin.