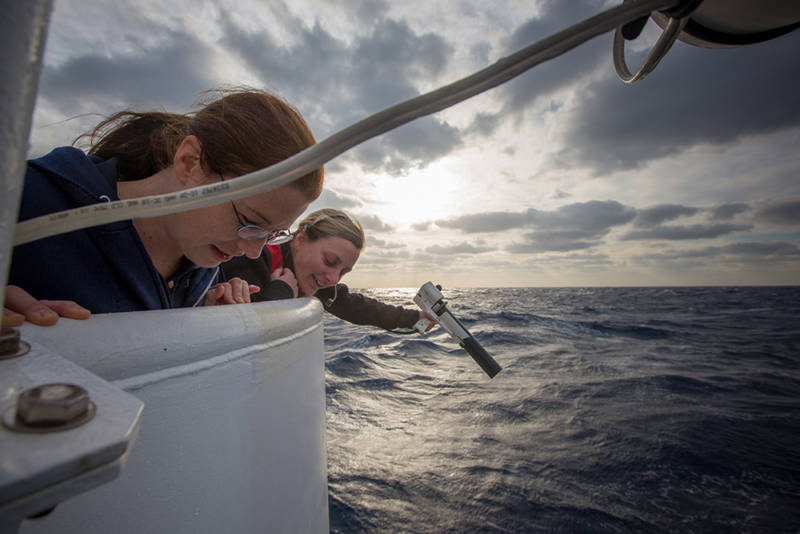 Mapping operations were conducted today following cancellation of the remotely operated vehicle dive due to heavy seas. Here, Mapping Team Lead Meme Lobecker conducts an XBT, or expendably bathythermograph cast, to measure temperature down to 760 meters in order to correct mapping data for water column variability. Due to the high sea state and heavy winds, she is accompanied by a team member (Expedition Coordinator, Kelley Elliott) to ensure safe operations. They are watching the incredibly thin copper wire as it pays out from the XBT to ensure it doesn't contact the ship and corrupt the data. Image courtesy of NOAA Okeanos Explorer Program, Gulf of Mexico 2014 Expedition. Download larger version (jpg, 434 KB).
Rough Seas: Dive Postponed, Mapping Continues
April 15, 2014
Today's dive was postponed because of high seas making conditions unsafe to deploy and recover the remotely operated vehicle (ROV). Always prepared for contingencies, our mapping team developed a plan and spent much of the day acquiring new high-resolution sonar data that will be made publicly available as soon as possible after the cruise. Other onboard personnel used the day to troubleshoot recent technical issues, plan and adjust future operations, catch up on work, and get some rest. Expedition team members both at sea and onshore are keeping an eye on the forecast and crossing our fingers that conditions tomorrow will be safe for conducting ROV operations.