Science
Science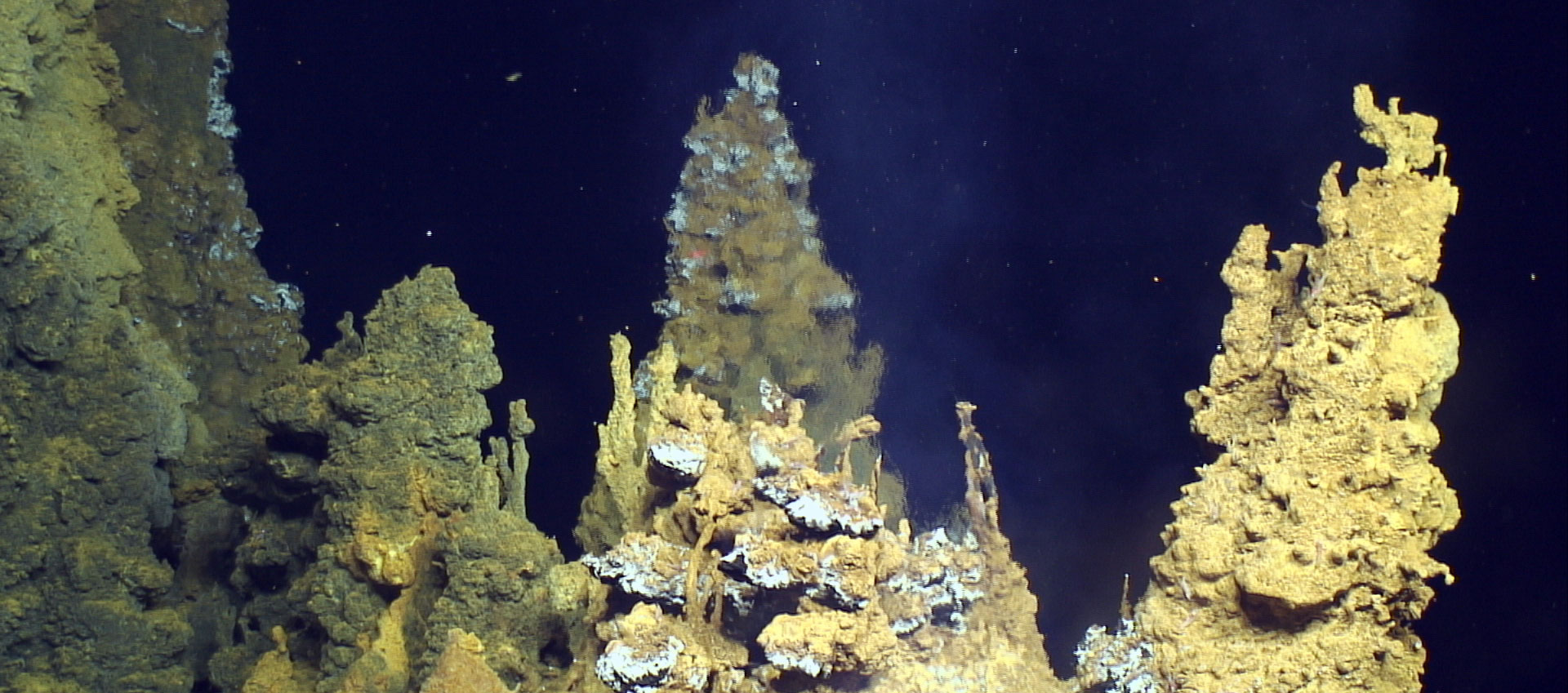 Exploration often leads to discoveries that highlight areas, features, resources, and/or processes that are new to ocean science and need further study. Our work results in the establishment of baseline observations and characterizations in poorly understood areas of the ocean. OER's science team focuses on transitioning exploration and research results to new applications that benefit the rest of NOAA and the nation. Collected data are made available to the science and management communities, delivering the environmental intelligence needed to better understand deep-water areas and more effectively target future research efforts.
OER investments provide the basic scientific intelligence about our planet that is critical to making the right decisions to manage and protect our ocean resources and prepare for future environmental change.
Highlights
Below are a few examples of the science projects that we have been involved in.
Marine Biodiversity
Marine biodiversity is the variability among living organisms in the ocean and Great Lakes. This variability exists at all levels of complexity from the genetic level, within species, and across ecosystems or biomes. In acknowledgement of the likely link between biodiversity and ecosystem resilience and in support of recommendations of the Interagency Ocean Policy Task Force, OER supports projects that produce baseline biodiversity inventories.
For example, OER:
Established and is participating in a NOAA Biodiversity Team that contributes to interagency efforts to better understand marine biodiversity.
Participates in the Interagency Biodiversity Ad Hoc working group under the Interagency Working Group on Ocean Partnerships aimed at coordinating the efforts of the federal sector.
Facilitated the convening of a May 2010 workshop of experts to develop a plan and recommendations for attaining an operational Marine Biodiversity Observing Network (BON) for the nation. The full workshop report is available online (pdf, 1.4 Mb).
Partnered with the National Oceanographic Partnership Program (NOPP) and other participating federal partners to request proposals addressing the recommendations from the May 2010 workshop and initiate an integrated Marine BON demonstration project. OER and the U.S. Integrated Ocean Observing System are partnering with NASA, BOEM, and others to launch these projects in 2014 and 2015.
Coral Reefs Habitats
OER supports coral reef habitat exploration that entails describing and identifying deep-sea and shallow coral species; characterizing coral reef habitats; understanding reef functioning, trends, and processes; developing new tools to study and understand corals; and understanding fisheries and other human impacts.
Highlights of our efforts include:
Applying technology from the biomedical community to develop better tools and new parameters to promote rapid assessment and monitoring of metabolic health of corals and other key coral reef species using a non-destructive sampling approach.
Supporting baseline studies to characterize benthic and pelagic coral communities on the shelf edge and slope; studies are helping to determine areas that may need special protection.
Supporting the development and application of conceptual and mathematical models to predict impacts of management efforts and natural phenomena on seafloor communities. This research is helping to increase understanding of the ecological role deeper fish and invertebrate populations play in replenishing shallower ecosystems, an important consideration in establishing marine protected areas.
Supporting studies to explore and better understand mesophotic coral reefs at depths of great than 30 meters. Mesophotic reefs are a largely unknown frontier and appear to be healthier than their shallow-water counterparts, who have experienced an 80-percent decline in the last 30 years. Mesophotic reefs are habitats for commercially important fish species and source of coral larvae for recruitment and potential recovery of the shallower reef areas.
Marine Microbes
The term "marine microbes" covers a diversity of microorganisms, including microalgae, bacteria and archaea, protozoa, fungi, and viruses. These organisms are exceedingly small-only 1/8000th the volume of a human cell and spanning about 1/100th the diameter of a human hair. Up to a million of them live in just one milliliter of seawater, and they comprise 98 percent of the biomass of the world's ocean.
As we learn more about the diversity of microorganisms and their associated biogeochemical processes, our view of the world's ocean ecosystem functioning is being transformed and the relevance of microbes to the discussion of ocean resiliency and marine resource management is becoming inevitable. OER is working to increase understanding of how microbes and microbial processes should be integrated into our biogeochemical and ecosystem health forecasts.
Highlights of OER efforts include:
In order to better understand the role of microbes in the ocean, NOAA recently convened a workshop to discuss ways to enhance NOAA's knowledge of the marine ecosystems' microbial components and to identify tools, insights, and roles specific to microbial science that NOAA should consider embracing. A summary report from the workshop is available online (pdf 2.38 MB).
As a follow up to the Marine Microbes Workshop and our partner's recommendations, OER led the creation of a NOAA-wide marine microbes working group that is presently co-led by OER and the National Marine Fisheries Service. The aim of the group is to exchange information; inventory, coordinate, and leverage NOAA capabilities; and identify gaps. Ultimately, the group, in collaboration with external experts, will develop a NOAA-wide vision for marine microbe research priorities and strategies.
Ocean Sampling Day (OSD) is a project of the Micro B3 consortium, a European Union-funded project working at the intersection of marine microbial biodiversity, bioinformatics, and biotechnology. OSD is a simultaneous sampling campaign of the world's oceans that will take place on the summer solstice (June 21) in 2014. Collected samples, related in time, will provide insights into microbial diversity and function. OER coordinated NOAA's participation to the project and collected samples during the pilot study that took place on June 20, 2013; NOAA sampled and sent for genetic analysis water samples collected at 10 sites around the country.
Submarine Volcanism and Hydrothermal Venting
Over 80 percent of the Earth's volcanism occurs in the deep ocean. Although deep submarine eruptions are the most common means whereby heat and mass are transported from the hot interior of the Earth to its crustal surface, understanding of the physical, chemical, and biological ocean environmental impacts of these volcanic events is in its infancy. At present, there are no means to detect and locate deep volcanic eruptions using either land-based or ocean surface observational systems and to date, only a handful of active deep eruptions have been observed.
Through new and/or innovative application of ocean surveying, mapping, and monitoring technologies, OER seeks to discover how this planetary-scale process, along with associated hydrothermal venting, is impacting the oceanic water column and how it manifests conditions that sustain both micro- and macro-biological ecosystems.
Highlights of recent discoveries include:
Sustained, years-long active eruptions of lava from submarine arc volcanoes
Large-volume venting of carbon dioxide from subduction zone volcanism
Local to regional ocean acidification of both chemosynthetic and photosynthetic ecosystems caused by hydrothermal sources of both carbon dioxide and sulfur dioxide
Distinct micro- and macro-biological communities associated with highly variable, volcano-to-volcano, vent fluid chemistries