NOAA Ship Okeanos Explorer: In Port – Hawaii
NOAA Ship Okeanos Explorer has arrived in Pearl Harbor, Hawaii, and is now docked at Ford Island. On July 10, Okeanos will depart on a 15-day mapping cruise to the Johnston Atoll portion of the Pacific Remote Islands Marine National Monument. During the cruise, mapping will take place along Horizon Guyot and the Karin and Johnston Seamount chains.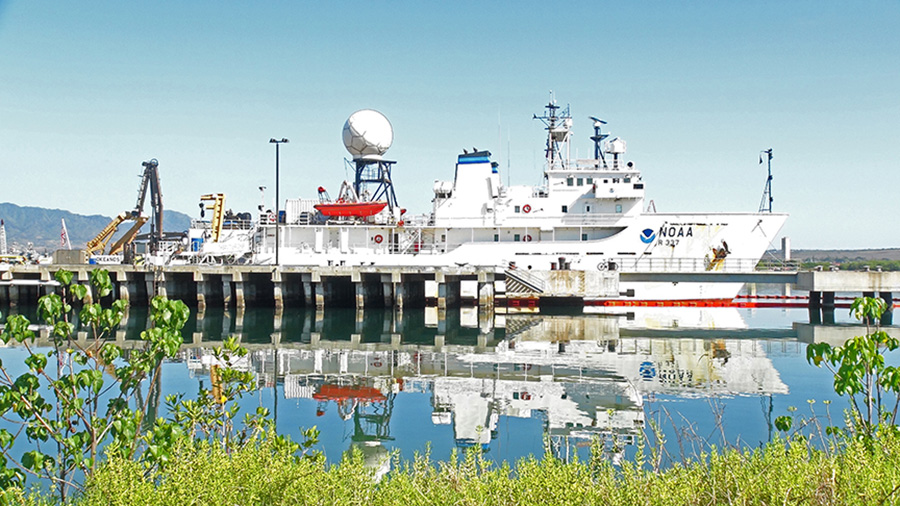 NOAA Ship Okeanos Explorer docked at the pier in front of the NOAA Inouye Regional Center on Ford Island, Hawaii. Image courtesy of Mahina Peleiholani-Blankenfeld/NOAA.
---
Latest Status Updates from the Okeanos Explorer
Use of the live streams is an important component of the Okeanos Explorer's mission. Depending on the exploration and operations at hand, content and availability of the video feeds will change. Tune in often to catch all the action aboard America's Ship for Ocean Exploration! All video courtesy of the NOAA Office of Ocean Exploration and Research.
All views and opinions expressed in this video feed are those of the speaker and are not attributable to the National Oceanic and Atmospheric Administration or other federal agency.
Related Links
Exploring LIVE with the NOAA Ship Okeanos Explorer (pdf, 204 kb)

Océano Profundo 2015: Exploring Puerto Rico's Seamounts, Trenches, and Troughs

Our Deepwater Backyard: Exploring Atlantic Canyons and Seamounts 2014

Shakedown and Mapping New England Seamounts

Exploration of the Gulf of Mexico 2014

All Okeanos Explorer Expeditions

Like Ocean Explorer on Facebook

Follow Ocean Explorer on Twitter

Ocean Explorer YouTube Channel Video

Check out our video playlist for highlights from previous field seasons. For updates about our future plans, follow us on Twitter, like us on Facebook, or sign up for email updates.