Meet the On-ship Expedition Team
---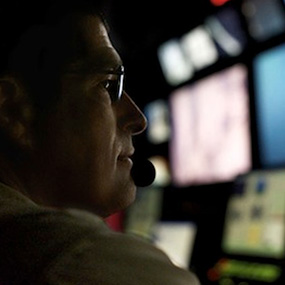 Joe Biscotti
Video/Audio Engineer
Joe Biscotti is an award-winning broadcast engineer, cameraman, editor, satellite engineer, and aerial drone pilot with 36 years of experience in the broadcast media world. Joe has a long history with Good Morning America and ABC News, with many firsts over the course of his career. Joe joined the Ocean Exploration program to help us establish a very high-quality standard for our underwater imaging capability and is one of our key underwater camera operators. He has spent a great deal of time in Iraq, the Gulf of Mexico, and recently Vietnam setting up a live broadcast from the world's largest cave system. His very high standard of expertise is always in demand. He is a member of the Society of Broadcast Engineers and his list of accomplishments include, but are not limited to, an Emmy for ABC Prime Time Live, Emmy nominations nine times for editing and ten times Emmy nominated for field audio. Joe is also the winner of 10 Cine Golden Eagle awards and when not traveling to the far reaches of the world, he resides in Weston, Florida.
Amanda Bittinger
Hydrographer
Amanda Bittinger began her career in hydrography as a NOAA Corps Officer aboard the NOAA Ship Rainier. She has since gained 11 years of experience, working for corporate and private industry offshore and in field offices in the United States, Europe, Central America, and the Central Pacific. She has worked on a wide range of hydrographic surveys purposed for navigation, dredging, wind farms, seismic, pipelines, cable routes, and exploration. Her favorite survey was a cable route on the Adriatic.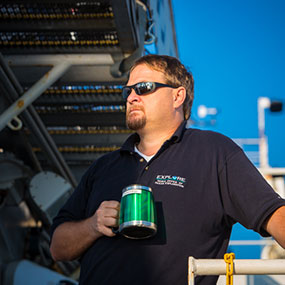 Roland Brian
Electronic Systems Engineer

Roland Brian brings 29 years of experience and a keen eye for precision HD video to the program as a video/satellite and telepresence engineer. Roland began his career in the U.S. Air Force where he worked as a Satellite Communications Engineering Technician with visions of working on the U.S. Space Station. He traded in that quest for one of deep-ocean exploration and sharing beautiful imagery with the world. He has worked with the NOAA Office of Ocean Exploration and Research (OER) and the Okeanos Explorer Program since 2009 and has been engaged in every telepresence-enabled remotely operated vehicle (ROV) expedition. He has also provided services for other projects using OER's mobile telepresence system, including the 2012 Ring of Fire Expedition. His duties aboard NOAA Ship Okeanos Explorer include operation and maintenance of the ship's Telepresence and video systems, including on ROV Deep Discoverer and the Seirios camera platform. Again, Roland's experience embodies the breadth and depth of knowledge the OER program encourages. When not fine-tuning the video and telepresence systems or training and mentoring new team members, he's actively involved in the editing process of our ever-expanding ocean exploration video library. While not at sea, Roland enjoys life with his wife and family in sunny Sarasota, Florida.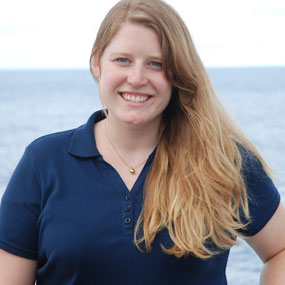 Kasey Cantwell
Field Operations Specialist, NOAA Office of Ocean Exploration and Research
Kasey Cantwell is a Field Operations Specialist in the NOAA Office of Ocean Exploration and Research (OER). Kasey finished her Masters of Science in 2013 at the University of Miami's Rosenstiel School of Marine and Atmospheric Science (RSMAS). Kasey's background includes field work on reefs throughout the Caribbean, long-term ecosystem monitoring, and evaluating management strategies. This cruise is Kasey's ninth expedition since joining OER in 2012.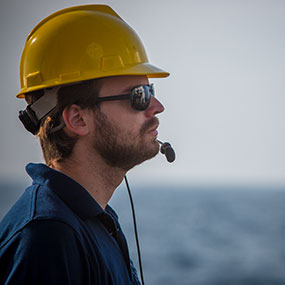 Joshua Carlson
Mechanical Engineer
Joshua Carlson attended the University of Massachusetts, Dartmouth, where he received a B.S. in Mechanical Engineering with minor in Business Administration. He went on to receive his M.S. in Marine Observation Technology from the University of Massachusetts, Dartmouth School for Marine Science and Technology. Josh has a diverse background, encompassing the use of autonomous underwater vehicles (AUVs) and other types of ocean observation platforms for the purpose of studying ocean turbulence. He has designed and built a deep-ocean camera platform for filming deep-water krill in the Antarctic Ocean and provided mechanical engineering and software capabilities on the Woods Hole Oceanographic AUV Sentry during a recent cruise aboard the NOAA ship Okeanos Explorer. In his current position with NOAA's Ocean Exploration program, Josh provides engineering, programming, and at-sea support, acting in the capacity of navigator, pilot, and co-pilot for NOAA's 6000-meter-rated remotely operated vehicle system, Deep Discoverer. His broad range of skills in both engineering and software control development makes him an invaluable member of our team. When not traveling, Josh resides in Fairhaven, Massachusetts.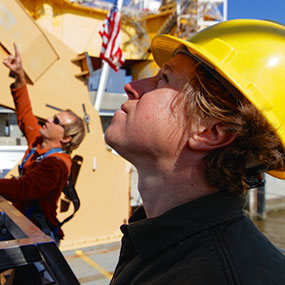 Todd Gregory, P.E.
Mechanical Engineer
Todd Gregory received his B.S. in Naval Architecture and Marine Engineering from Webb Institute in 1999 and his M.S. of Ocean Engineering from the University of Hawaii at Manoa in 2001.  From 2002 to 2010, Todd was employed by Dr. Robert Ballard's Institute for Exploration, where he served as the principle mechanical/ hydraulic designer for the remotely operated vehicle (ROV) system Hercules. He has served as a Guest Investigator at the Woods Hole Oceanographic Institution and as an Associate Marine Development Engineer at the University of Rhode Island-Graduate School of Oceanography and is currently a Mechanical Engineering Consultant to NOAA's Office of Ocean Exploration and Research (OER).  Todd is our principle mechanical engineer for OER's 6000-meter rated, two-body ROV system Deep Discoverer and Seirios, and is one of the chief pilots during our offshore operations. He has participated in numerous international research expeditions and is a tremendous asset to the oceanographic community. His efforts in mentoring our newer engineers and impeccable attention to detail are but a few of his many contributions to the Ocean Exploration program. Todd currently resides in North Kingstown, Rhode Island.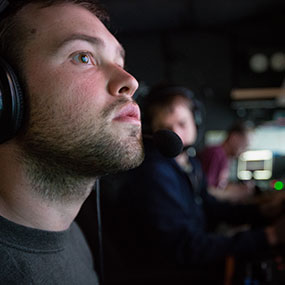 Jeff Laning
Electrical Engineer
Jeff Laning holds a B.S. in Electrical Engineering from the University of Vermont. He started his career as an intern with Greensea Systems, Inc., where he worked on design, development, and integration of components and software associated with remotely operated vehicles and autonomous underwater vehicle systems.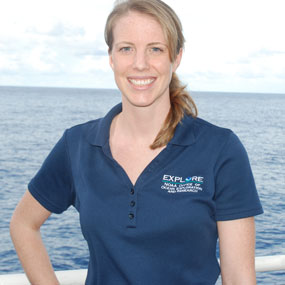 Lindsay McKenna
Expedition Coordinator, NOAA Office of Ocean Exploration and Research
Lindsay earned her master's in Earth Science - Ocean Mapping from the University of New Hampshire in 2013 and her bachelor's degree in Geological Sciences from Brown University in 2007. Lindsay worked as a geologist at an environmental consulting firm before returning to graduate school. In graduate school, Lindsay gained practical seafloor-mapping experience during research cruises to the Mediterranean Sea, Arctic Ocean, and Gulf of Maine. Lindsay joined the Office of Ocean Exploration and Research in early 2014 as a Physical Scientist, where she leads ocean mapping cruises onboard NOAA Ship Okeanos Explorer. At sea, Lindsay heads the ocean mapping team and directs the exploration process. On shore, Lindsay works at the Integrated Ocean and Coastal Mapping Center at the University of New Hampshire where she contributes to expeditions through data processing and archiving, operational planning, and mapping product development. Lindsay resides in Rye, New Hampshire.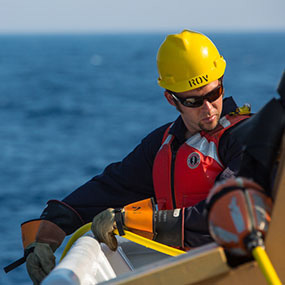 Karl McCletchie
Ocean/Mechanical Engineer
Karl McLetchie is a graduate of the Massachusetts Institute of Technology. He holds B.S. and M.S. degrees in Ocean and Mechanical Engineering. After graduating, he worked as an engineer on the development of autonomous underwater vehicles and as a naval architect on the design of high-speed aluminum vessels. After a brief, two-year stint of delivering sailboats around the Caribbean, he started his own contracting company, SeaKnowledge, in 2008. Through SeaKnowledge, Karl works on the mechanical design and operation of underwater vehicles. Karl has worked on Okeanos Explorer for six seasons, in all positions on the ROV Team from Winch Operator to Dive Supervisor. When not on assignment for Ocean Exploration, Karl resides in Pemaquid, Maine.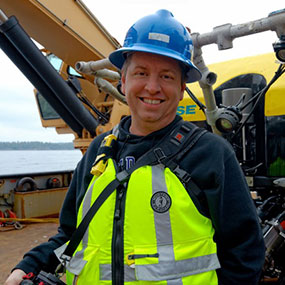 Ed McNichol
Video Producer, Editor, Post-Production Supervisor
Ed McNichol is a communications technology professional with 30+ years of global video expertise. He is an avid scuba diver and Divemaster based in Seattle, Washington. He combines both of these interests through his work supporting deep-sea research and exploration using remotely operated vehicles (ROVs). He has served as an onboard Expedition Video Systems Specialist and Mission Photographer on more than a dozen international missions, working with seven different vehicles. His specialties include designing, building, and operating sophisticated shipboard video systems in a mobile form factor. These systems perform a multitude of mission critical functions, including recording and archiving of high-definition video with embedded metadata, producing live satellite streaming with interactive webcasts, and video production services. He also has experience in best practices for digital asset management and protection, as well as event logging. He enjoys capturing dynamic still photos that feature shipboard mission operations while including rich metadata.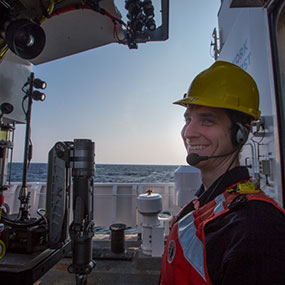 Bobby Mohr
Systems/Robotics Engineer
Bobby Mohr is a Systems/Robotics Engineer, specializing in autonomous and remotely operated underwater vehicles. He holds a B.S. in physics and graduated cum laude from Davidson College in 2009. Bobby started his career as an engineering technician with Greensea Systems where he was responsible for the design, development, and testing of autonomous underwater vehicle control systems. Like many of our engineers, Bobby realized that he would enjoy the design-build process more if he was able to also pursue the challenges of making vehicles work successfully at sea.
After serving on several projects at Greensea where he specialized in electrical and software systems support, Bobby joined the Ocean Exploration program as an electrical systems engineer. During his time at Greensea and now with NOAA, he has been one of the key electrical engineers on the development of our 6000-meter-rated remotely operated vehicle system, Deep Discoverer and Seirios. Like many of our engineers, he has multiple skills and is a tremendous asset to our program.
LTJG Nick Pawlenko
Expeditions Operations Leader, NOAA Office of Ocean Exploration and Research
LTJG Nick Pawlenko joins OER as Expedition Operations Leader. Nick is rotating to land after three field seasons aboard NOAA Ship Okeanos Explorer. During his time aboard the Okeanos Explorer, Nick was able to work with the ROV team, often sitting in as ROV navigator and co-pilot.
Nick graduated from the University of Pittsburgh with a Bachelor of Science in Mechanical Engineering and a Masters in Business. He also recently completed MIT's Professional Education program Rapid Robotics: Autonomous Systems with Open Source Software.
Prior to joining NOAA, Nick was very involved in the Pittsburgh community and served on the Board of Directors and as Treasurer for the Oakland Business Improvement District for many years. While in Pittsburgh, he also remodeled residential and commercial real estate and was involved in the bar and restaurant business.
Nick is very excited to continue his work with OER and be an asset to the team in his new land assignment.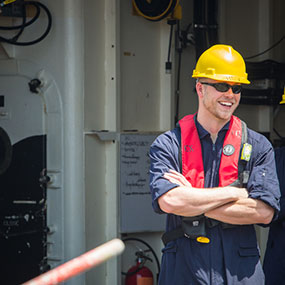 Chris Ritter
Ocean Engineer
Chris first joined our group on the Cayman Rise Expedition in 2011, just prior to being hired full time by NAVSEA. Since then, an informal NAVSEA-NOAA relationship has allowed Chris to continue to participate in our design, engineering, and offshore operations. Chris holds a B.S. in Ocean Engineering and a B.S. in Aerospace Engineering from Virginia Tech with a minor in mathematics. He is currently working on his M.S. in Ocean Engineering at Virginia Tech and expects to complete that program in 2015. Chris has been a major contributor to our design-build process and a tremendous asset to our offshore operations. He is a skilled navigator, pilot, and co-pilot of our vehicles and brings with him a level of enthusiasm that everyone around him appreciates and respects. The Office of Ocean Exploration and Research is very lucky to have his participation and we applaud NAVSEA for their insight, training, and willingness to share great talent. Chris resides in Arlington, Virginia.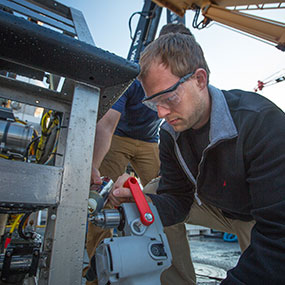 Dan Rogers
ROV Engineer and Telepresence Team Member
Daniel Rogers brings with him a diverse background in engineering, media production, and education. Daniel holds a B.S. in physics and received an M.S. in mechanical engineering from the University of Hawaii in 2013. His graduate work focused on the development and evaluation of an autonomous marine vessel designed for port and harbor security missions. Before starting his graduate program, Daniel worked as a science educator at the Bishop Museum in Honolulu where he continued as a digital media producer while in school. A lifelong interest in the sciences inspires him to learn all he can about the natural world and he is passionate about sharing the drama, allure, and wonder of scientific inquiry with others. Daniel currently works as a media producer and autonomous systems engineer in Honolulu, Hawaii.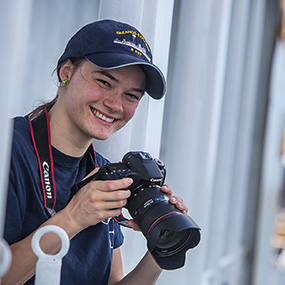 Tara Smithee
Videographer/Filmmaker
Tara Smithee is the Media and Visual Arts Coordinator for the Global Foundation for Ocean Exploration. Tara holds an M.S. in Earth Systems, Ocean Track, from Stanford University and is currently pursuing a MFA degree in Science and Natural History Filmmaking at Montana State University's Science and Natural History Film School.
To prepare for attending film school, she pursued a number of internships, spending three months learning to use editing software at NOAA's Ocean Media Center, one month filming wolves with Landis Wildlife films in Yellowstone National Park, and making several more trips working side by side with industry professionals on NOAA Ship Okeanos Explorer. In between her classes, Tara continues to participate in expeditions with the Okeanos and produces films for the NOAA Ocean Explorer website. She has worked on a variety of films as a producer, camera, sound, and editor. She hopes to use film to share her voice and as a platform for conservation. When not at sea, she resides in Portland, Oregon, where she rides horses, tango dances, and SCUBA dives.