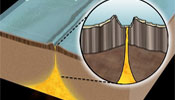 The Multimedia Discovery Missions are a series of 14 interactive multimedia presentations and learning activities that address topics ranging from chemosynthesis and hydrothermal vent life and deep-sea benthos to food, water, and medicine from the sea.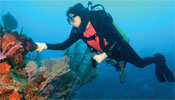 Ocean Careers to Inspire Another Generation of Explorers, or OceanAGE Careers, invites students to learn about the talented people who explore our ocean planet. From underwater pilots to research scientists, these marine explorers provide students with first-hand knowledge of exciting careers through live interviews, profiles, and mission logs.
Discover unique video clips from various expeditions as part of the MySubmarine explorer interactive experience. Scroll through education lesson plans, or tell a friend about our site by sending them an Email postcard. Note: Once inside the submarine, you can scroll through the creatures and features on the right menu panel or pick one from the expeditions maps on the left panel.
Before you begin, please read the system requirements and recommendations below.
Flash 8 or higher required, best viewed with browser full screen or maximized, 16bit or higher recommended, resolution 1024x768 or higher recommended. Sound card and speakers are required to hear the audio.
You may also play a lighter (non-Flash) version of MySubmarine.
Adobe PDF reader will be required to view PDF documents.