Ocean Explorers in the Classroom: Deep East Mission
NOAA's Voyages of Discovery are designed to convey both the excitement and benefits of ocean exploration into new frontiers with advanced technologies that enable the discovery of ocean secrets previously unknown to humankind. Learn more about the Deep East Voyage of Discovery and post questions to the scientists, ocean explorers and educators in the Deep East Web Forum.

Background
Leg One: Deep Sea Coral Communities in the Georges Bank Canyons
Leg Two: Exploring Deep Sea Processes and Resources in the Hudson Submarine Canyon
Leg Three: Gas Hydrates on the Blake Ridge
Online Classroom Activities
Web Forum
Webcast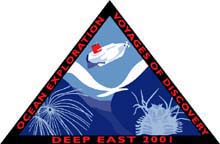 The Deep East Mission Patch represents the three target focuses during the September 2001 Voyage of Discovery .
---
Background
The Deep East Mission is a Voyage of Discovery exploring new resources and ocean dynamics off the East Coast of the United States. The explorers will use the deep submergence vehicle, Alvin, the only U.S. "passenger" submersible capable of diving below 2,000 meters (6,562 ft). Teams of scientists and educators will embark upon three cruise legs in September 2001.

The Deep East Mission will explore three regions of the Atlantic Ocean stretching from Maine to Georgia, including submarine canyons and a seamount off Georges Bank, Hudson Canyon and the Blake Ridge. Although these areas are very close to home, we know little about the living and nonliving resources dwelling within them. Scientists will search for and study deep-water corals, methane hydrates, and other as yet unknown resources and ocean processes.

Leg One: Deep Sea Coral Communities in the Georges Bank Canyons
Leaving from Woods Hole, MA, the Atlantis oceanographic vessel will begin exploration and research on the Georges Bank Canyons to study deep-sea coral communities. Very little is known about the biology, diversity and population status of the deep coral beds off the coast of New England. Scientists, ocean explorers and educators plan to characterize these deep-sea octocoral communities during the first leg of the Deep East Mission. They will characterize Georges Bank and Bear Seamount with video images, core samples and measurement studies.

The discovery of deep-sea corals in entirely new in the field of oceanographic research.
---

Leg Two: Exploring Deep-sea Processes and Resources in the Hudson Submarine Canyon
Hudson Submarine Canyon, an ancient extension of the Hudson River Valley, extends over 400 nautical miles seaward, from the New York-New Jersey Harbor and across the continental margin to the deep ocean basin. Past undersea investigations have shown that the canyon may harbor unusual deep-sea creatures, and may provide scientists with insights regarding how a major urban area connects with, and impacts, the deep ocean. This area once was used as a dump site on the continental rise east of New Jersey. It received the world's largest discharge of municipal sewage sludge to the deep sea. In 1989, scientists and research institutions used the deep submergence vehicle Alvin to investigate the dump site. They found chemical increases and biological changes in the sea-floor environment that regulatory agencies had not anticipated when the dump site was authorized. Dumping ceased in 1992, thus providing a unique opportunity to document the canyon's chemical and biological recovery.

Leg Two of the Deep East Mission will also investigate gas hydrates, an ice-like substance that forms under pressure when natural gas molecules (primarily methane) are trapped in a cage of water molecules. Many countries are developing technologies to extract methane from gas hydrates. Gas hydrates also influence ocean carbon cycling, global warming and coastal sediment stability. Does the future solution to the energy crisis lie on the ocean sea floor?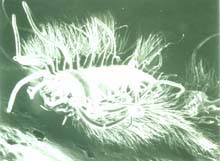 Ice worms are a new species found at gas hydrate beds on the deep-sea floor.
---
Leg Three: Gas Hydrates on the Blake Ridge
At a time when energy is limited and more expensive, oil companies are pushing into more remote frontiers in search of new resources. Understanding the dynamics and ecology of seep communities will assist NOAA in its role as a steward of the ocean environment. To date, the only U.S. cold-seep communities to be explored and studied are located in the Pacific and Gulf of Mexico, although extensive gas-hydrate beds and associated cold seeps exist off the U.S. East Coast. This leg of the Deep East Mission will be the first submersible exploration of a cold-seep chemosynthetic community off the U.S. East Coast, on the Blake Ridge off the coast of northern Florida, Georgia and the Carolinas. Scientists estimate that three times more fossil fuel is locked up in gas hydrates than all other petroleum sources on Earth combined. Ideally, the Deep East expedition will provide the basis for investigators to conduct future studies on deep-sea corals, gas hydrates and other resources.

Online Classroom Activities
Fourteen Deep East Lesson Plans have been developed and are available for immediate download. You may also read the following data tips, courtesy of the BRIDGE Web site.

Oceanography 101 (June 2000 Data Tip)
To comprehend the system as a whole, scientists must cross the boundaries of disciplines.

The Sea Floor and Below (July 1999 Data Tip)
Imagine being at a sea-floor observatory on an underwater volcano. You can investigate the bizarre environment of hydrothermal vents, black smokers, tubeworms and other thermophiles. An Oregon teacher accompanied scientists on a research trip. You can peek at his photos and reports. Bring an axial volcano right into your classroom using sea-floor mapping data. Graph a profile, or better yet, create a three-dimensional representation of the underwater landscape using step-by-step instructions for an Excel graphing exercise.

Web Forum: Sept. 24-27, 2001

Classrooms can post questions to the scientists, ocean explorers and educators participating in the Deep East Mission. Please enter your name, your school and your state when you post a question. To ask your questions in the chat room, all you need is a connection to the Internet. This text-based interface is easy to use. The moderation feature will ensure that all comments and questions made public are appropriate for students of all ages. Once your questions are posted in the Web forum, they will be answered by the participating mission teams. Answers will be posted the following day.

Webcast: Sept. 28, 2001
1:00 - 2:25 PM Eastern Time

Webcasts are live video and/or audio feeds easily accessed via the Internet. On Sept. 28, 2001, your classroom will have an opportunity to interact with Deep East scientists, ocean explorers and educators. While watching the live video stream or listening to the live audio stream, you also will be able to ask questions of the experts and possibly have them answered during the program. You and your students can ask your questions from within a live, moderated chat room. During the program, we will attempt to answer as many questions as possible. Questions not addressed during the hour-long show will be answered by Deep East experts within the chat room shortly following the program. During the Webcast, you will want to also launch this page of images.

Webcast
Chat Room
Page of Images

You will need to download RealPlayer to view and/or hear the live Webcasts. It is advised that you download RealPlayer (look for free versions) and test it well in advance of the live broadcast. To ask your questions in the chat room, all you need is a connection to the Internet. This text-based interface is easy to use. The moderation feature will ensure that all comments and questions made public are appropriate for students of all ages.